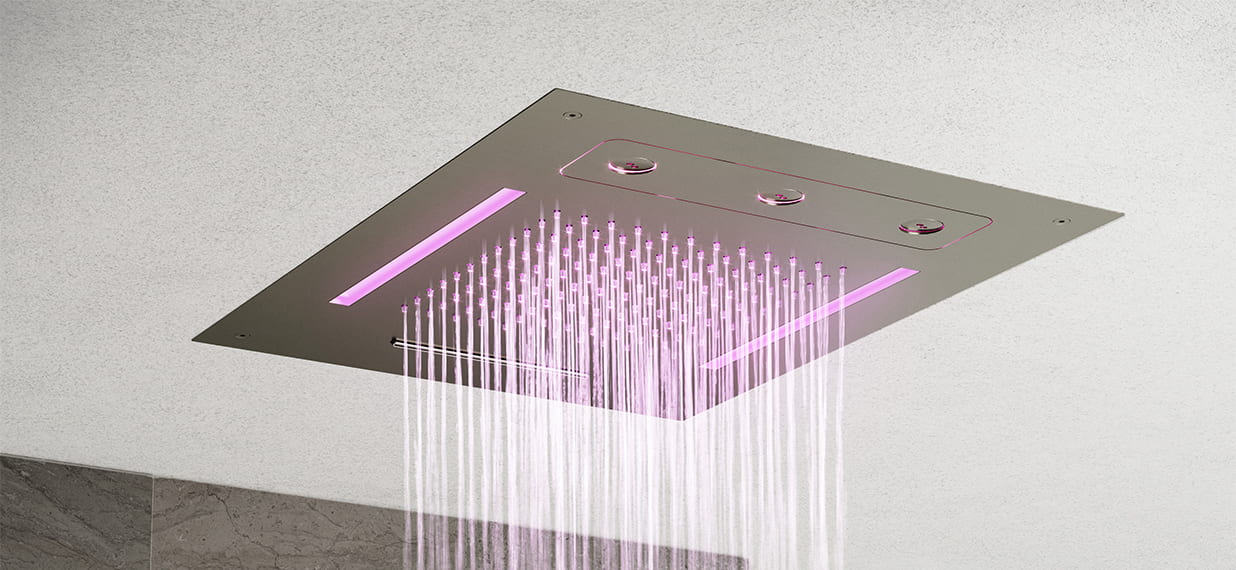 Mate
Your partner in crime
Overhead and hand-held showers fitted with luxurious comfort options such as LED lighting in 9 (!) colours, Bluetooth speakers and a relaxing waterfall.
Must-Have for a Home Spa
Do you want to create a spa-like atmosphere in your bathroom? Then choose the Mate series, where maximum usability is the central focus. The sleekly designed overhead and hand showers add a luxurious touch to any bathroom. The possibilities in this series are endless: think of one or more cascades, which provide a relaxing waterfall in your bathroom. Or opt for massaging body jets and a soothing mist function. In some models, it's even possible to enjoy your favorite music in the shower, thanks to four built-in Bluetooth speakers. In a hectic life, Mate offers ultimate comfort and complete relaxation.
With Mate, you can fully unwind in the bathroom. You can choose from round or square recessed showers that are integrated into the ceiling, as well as an overhead shower with a wall arm or ceiling pipe. Some overhead showers are equipped with LED lighting. You can choose from nine different colors. For example, red LED lighting gives you an energy boost, while green color promotes relaxation. Last but not least, these showers are also a sustainable choice. The overhead showers use less water than a regular rain shower, without sacrificing comfort.
Want to see more of Mate? Get inspired by these special showers and start combining!
Maximum Enjoyment with Mate
The overhead and hand showers from the Mate series offer a true experience. Here are some highlights of this series:
Available in Chrome and Brushed Nickel
Available with LED lighting, Bluetooth speakers, body jets, and cascade function
Combining multiple functions is possible thanks to High Flow thermostats
Italian design
Sustainable: thanks to the EcoAir System, these showers are water-efficient
10-year warranty on the high-quality internals from Flühs
Ask your bathroom advisor about all the features of Mate. Our dealers are spread throughout the country and are happy to assist you.