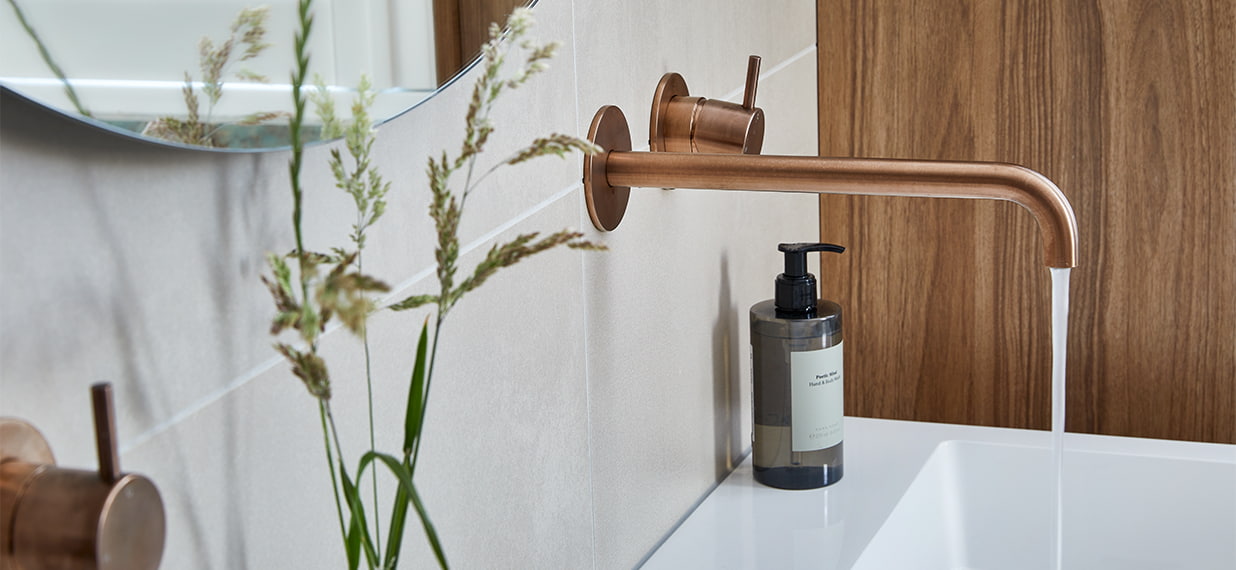 Monique
Choosing Faucets in Brushed Copper with a Copper Wire Company
As a midwife, Monique Smith often visits people's homes and sees many bathrooms. This inspiration came in handy when she and her husband were looking for a new bathroom. High on the wishlist: a green herringbone tile. However, they came home with something entirely different...
Profile
Who Monique Smith (midwife), Hans (owner of a technical trading company), and their children Simone (19), Hugo (17), Olivier (17), and Ralph (13) Where Berkel en Rodenrijs Type of House Detached corner house from 2022, 190 m² Bathroom 9 m² Notable The twins have their own bathroom in the attic.
A few years ago, Monique and her husband Hans faced the dilemma: renovate or move? They chose the latter, to a new-build house in the same neighborhood, and so they started looking for a new bathroom. Monique says, "As a midwife, I often visit people's homes and see many bathrooms. That's how I got the idea for a wall with green herringbone tile. I even created a mood board with the green tile as the star. When we were at bathroom specialist Joost Post, we fell in love with a green marble-look tile measuring 120x120 cm. It was very different from what we had in mind, but we have never regretted it. We are very happy with our new bathroom."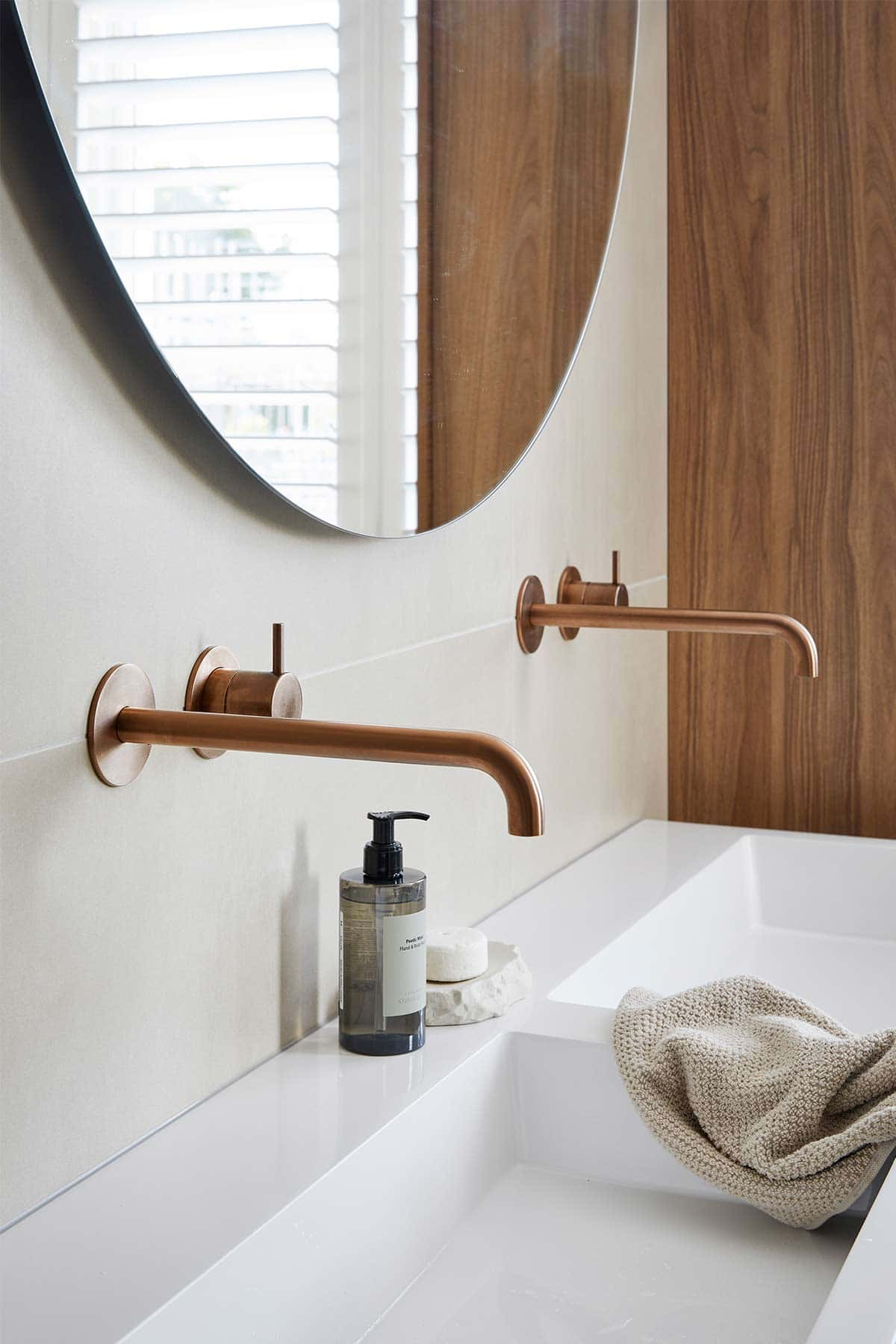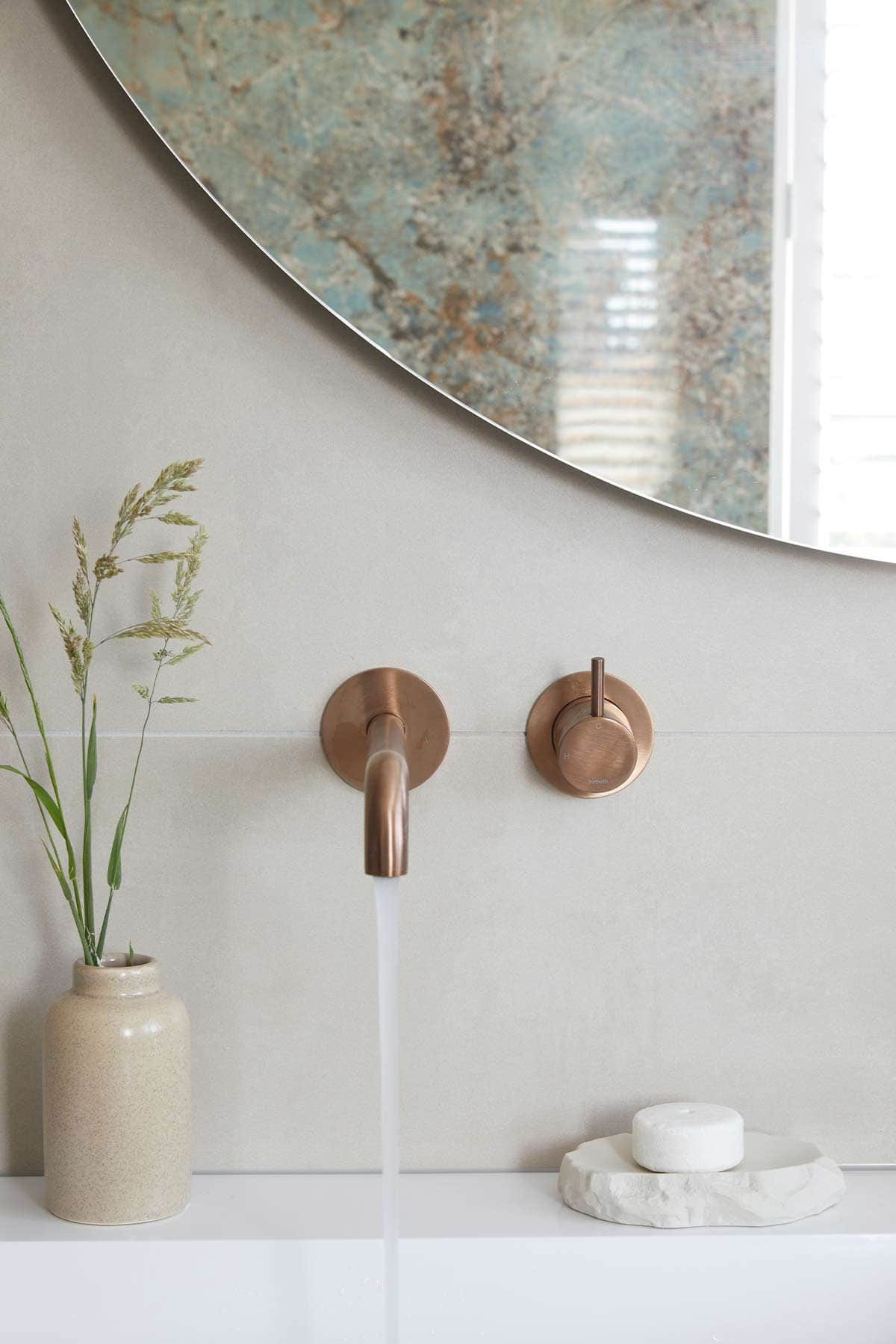 Perfect Match: Brushed Copper
The marble-look tile is the starting point, and Monique and her husband choose the bathroom vanity and faucets to go with it. "During our visit to the bathroom specialist, we discovered Hotbath faucets. Beautiful! Our contractor was with us at the appointment, and it was fortunate that he had a lot of experience with Hotbath. We quickly decided on the Cobber faucet series. We agreed that the brushed copper finish looks the best with the green marble-look tile. Hans has a company specialized in copper wire, so that's a funny coincidence."
The brushed copper finish is one of Hotbath's Living Colours. These faucets naturally change color and develop a vibrant patina with use. Monique chooses to have the faucets finished with a PVD coating (Physical Vapor Deposition) to maintain their appearance like new. "I wanted the faucets to have a protective coating so they would keep their beautiful look. An interesting detail is that the Instamat towel warmer has the exact same brushed copper color as the faucets."

Double Happiness with Two Sinks
In the new bathroom, Monique really wanted built-in faucets. "Because of the aesthetic effect. I find it a bit more elegant and cleaner than surface-mounted faucets. Like in our previous bathroom, we chose two sinks. The knobs of the basin mixer faucets (CB005) are both on the right side. I like symmetry, that's why. In practice, Hans and I don't often stand in front of the mirror at the same time, but we also share the bathroom with two of our children."
To prevent clutter in the bathroom, everyone in the Smith household has their own tray in the wooden vanity unit. "We store our own toiletries and accessories in these. The goal is to keep the sink clear, and so far, we've been successful," Monique says with a smile. "There's no morning rush in our bathroom. Hans and I shower in the morning, and the kids often do so in the evening."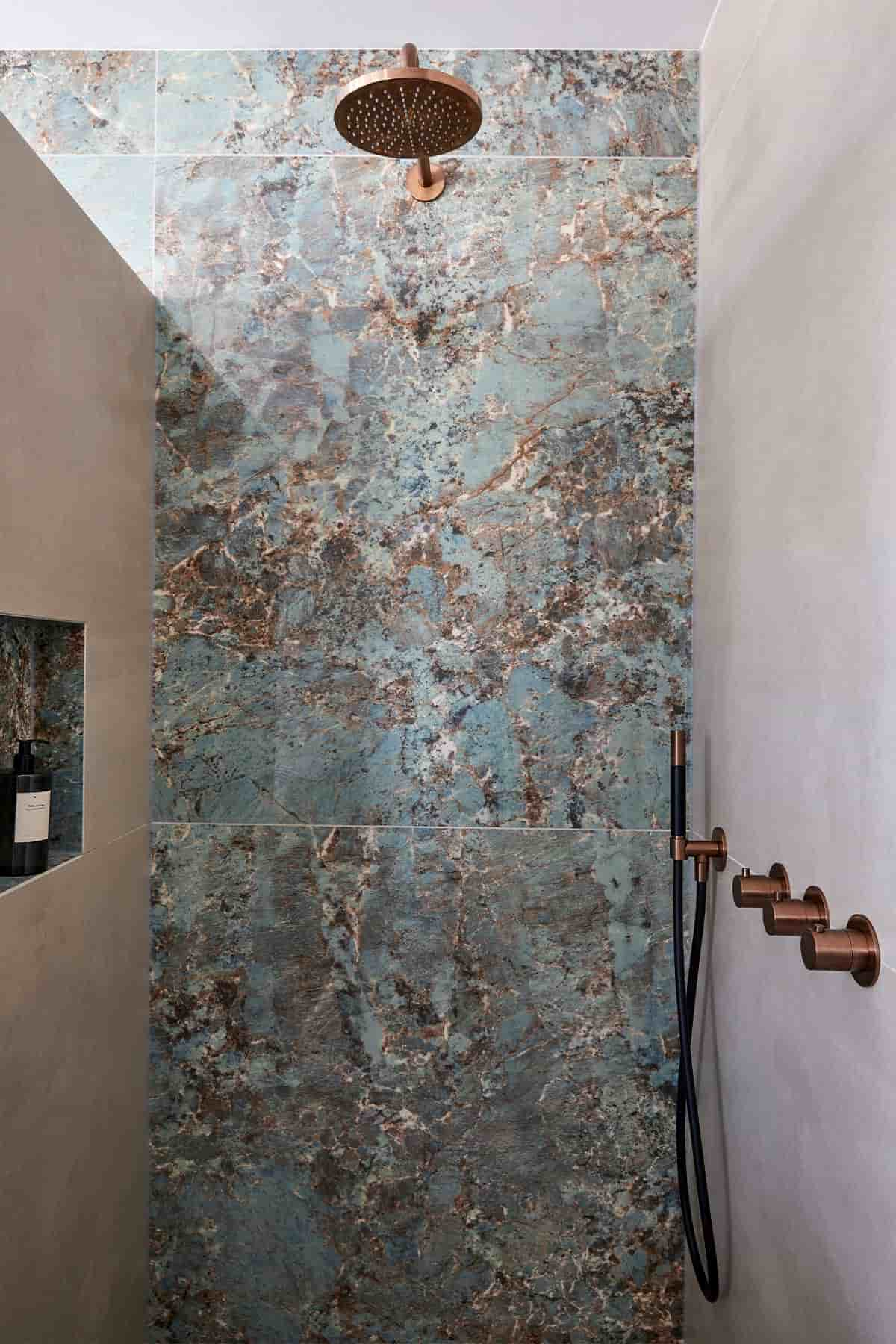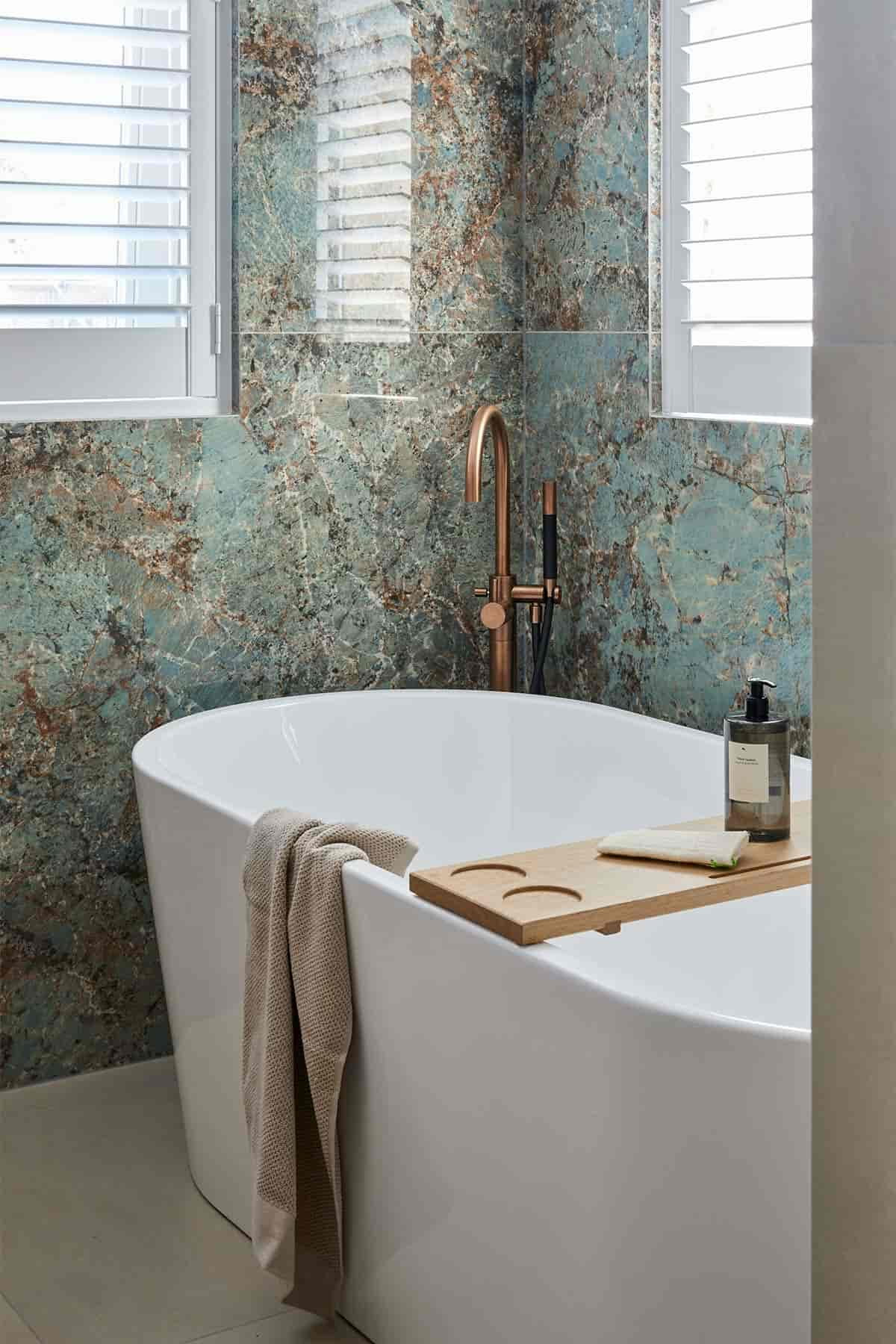 Shower Controls
A walk-in shower is a must in the new bathroom. The family opts for a thermostatic built-in set with a rain shower and a handheld shower (IBS70BCP). "My husband and the kids use the rain shower the most. When I want to keep my hair dry, I use the handheld shower. I really like the slim design, and it provides a good, powerful stream." Monique and Hans's contractor comes up with a good suggestion. "He suggested placing the shower controls on the side instead of on the back wall. The knob to turn on the shower is by the entrance of the shower, so you don't get wet. Very convenient."
A Bonus Bathtub
Monique and her husband are not avid bath enthusiasts, but Monique wanted a bathtub in the bathroom. "If I can believe Bob Sikkes from 'Kopen Zonder Kijken,' you should have at least one bathtub in a house with two bathrooms. We had the space for it, so we got a bathtub anyway. I haven't taken a bath often, but the kids are very happy with it. And a freestanding bathtub naturally deserves a freestanding faucet. We chose a floor-mounted bathtub faucet (CB077). A faucet that is meant to be seen!"
Photo Gallery Monique: