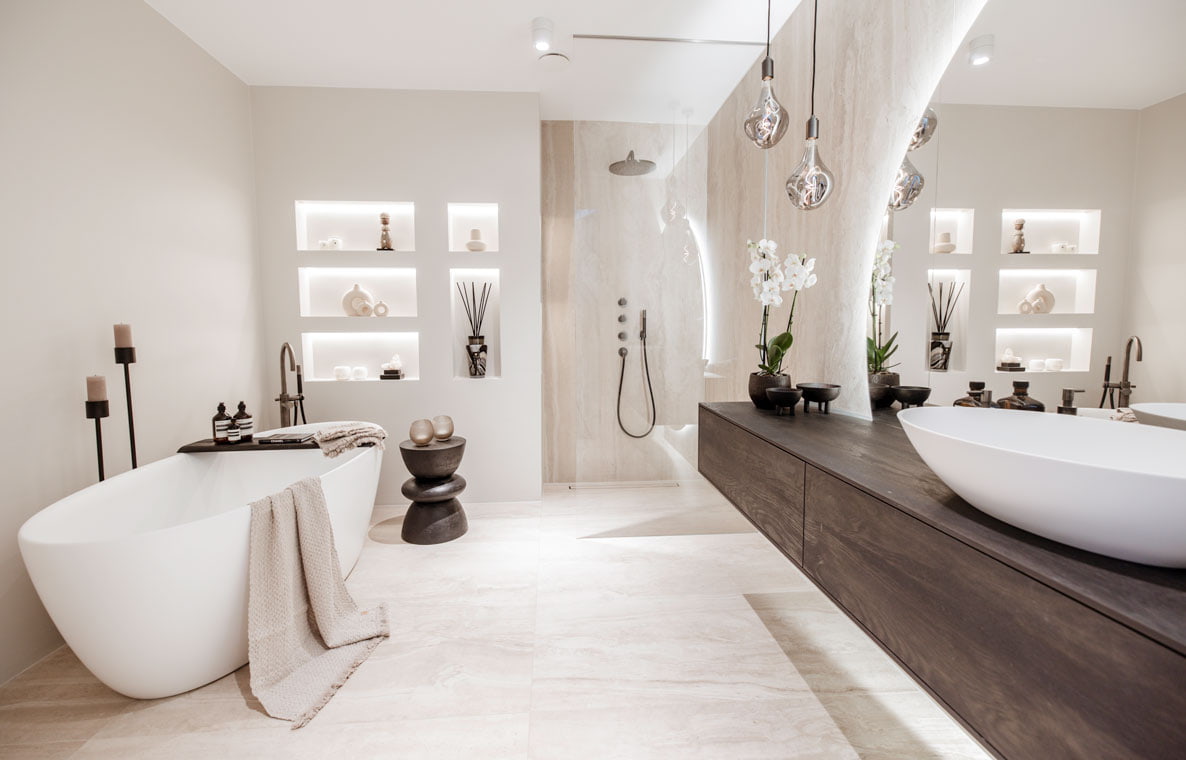 "I was completely in love with the freestanding bath faucet from Hotbath, so we had to have a bathtub too!" - Miranda
Bathroom with an International Flair
The years of the pandemic weren't the best, but Miranda and Marcel ended up with a beautiful new bathroom. The transformation of their bathroom went viral on Instagram (4 million views!). Miranda says, "It's incredibly exciting that so many people also have a wow feeling about our new bathroom!"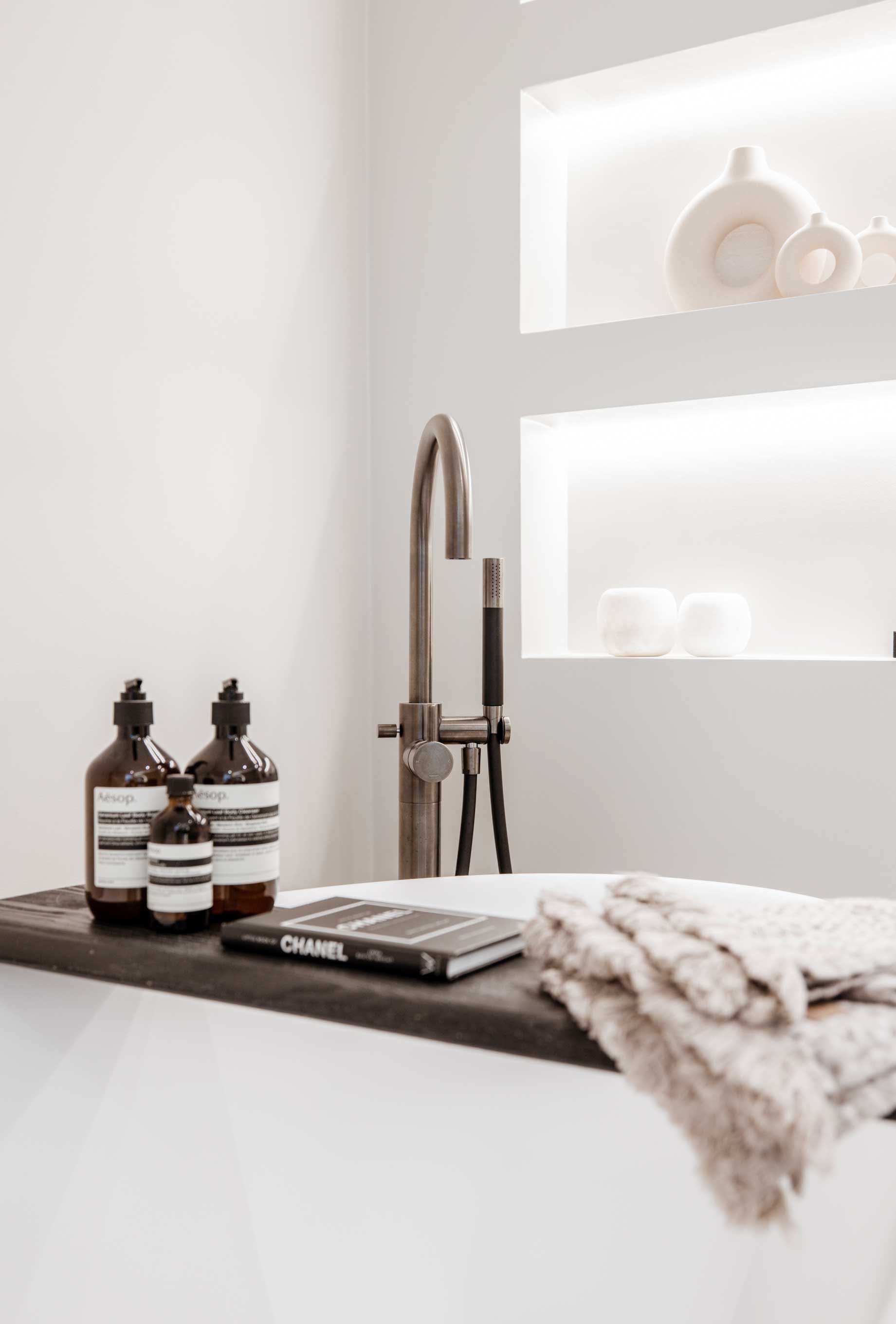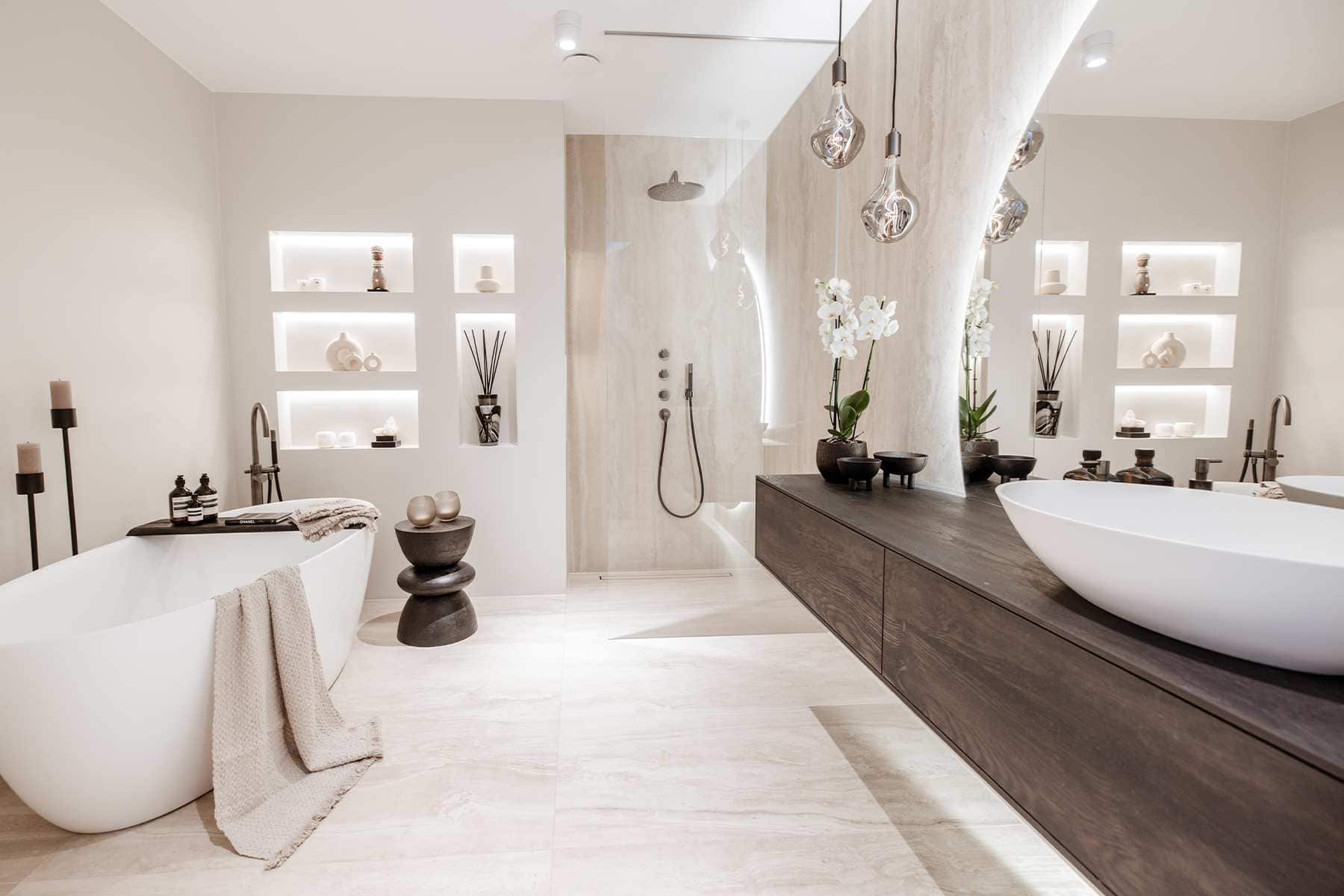 Profile
Who Miranda Cornelissen (48, self-employed entrepreneur and successful Instagrammer @huisje_in_empel) and Marcel Lathouwers (55, consultant at an ICT company) Where Den Bosch Type of House Detached semi-detached house built in 2006, 190 m² Bathroom Size 9.5 m² Special "I'm very happy with the niche wall that we filled with accessories. Behind the niche wall hides a chute, which was initially a concern for us. The interior designer came up with this great idea."
When Miranda and her husband Marcel found themselves working from home a lot during the pandemic, they began to see their interior in a new light. Miranda says, "We started to get more and more annoyed by certain things. First, we renovated our living room, and then our sixteen-year-old bathroom had to go." The couple loves to travel and enjoys staying in beautiful hotels. They wanted to recreate that feeling in their new bathroom. Miranda collects everything she likes on a personal mood board on Pinterest. The images revealed a clear style: a luxurious and atmospheric bathroom with dark brown wood, light warm-toned stucco, unique XXL travertine tiles, and special faucets. "This mix of materials and colors reminds me of foreign countries. I really wanted to create a wow feeling. Interior designer Kylie van Gerven took our wishes and created an inspiring bathroom design. We then added our own touches."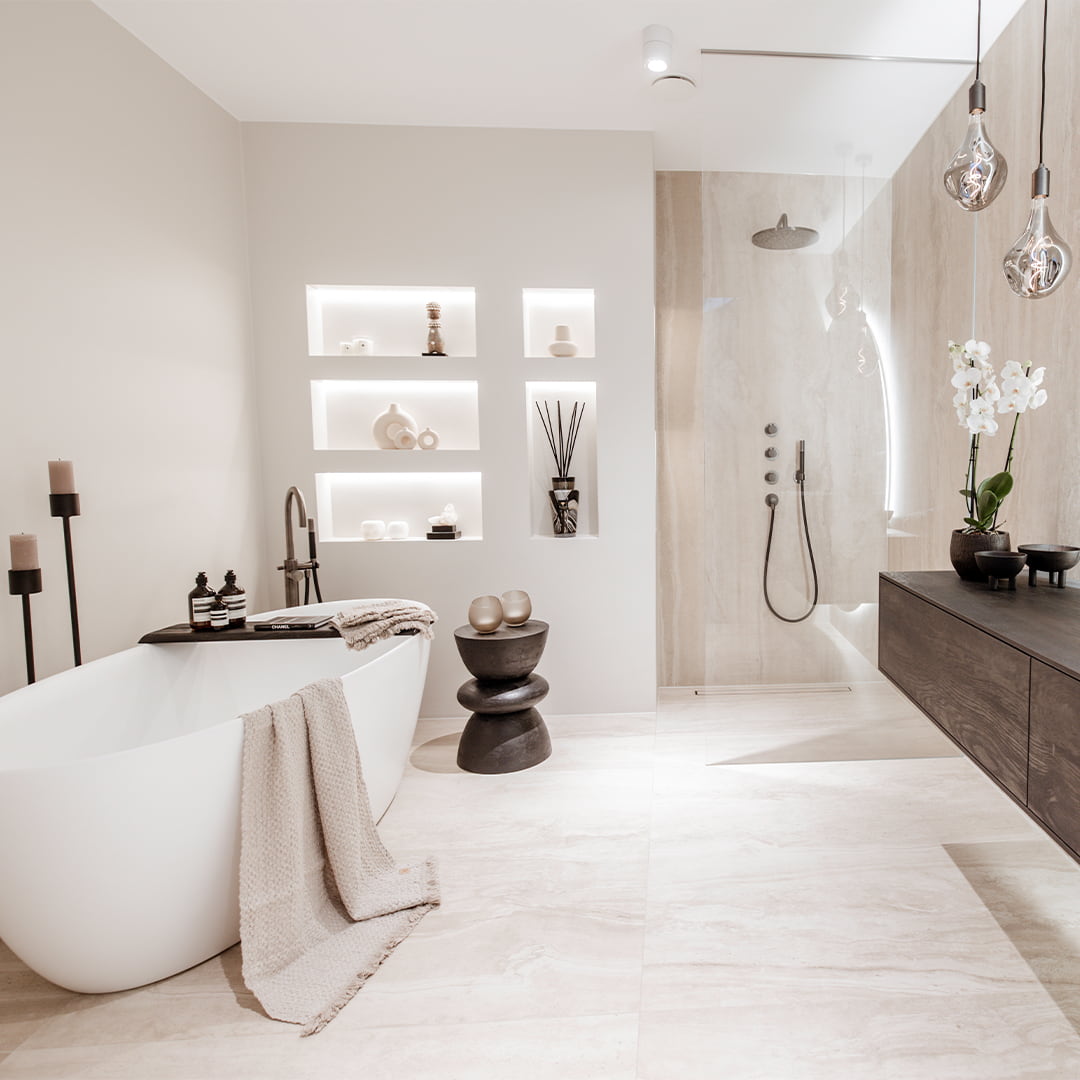 Faucets in Aged Iron: Sleek and Rugged
The aged iron finish is something a bit different.
It wasn't just a dream; in the spring of 2022, they brought their new bathroom to life. Miranda personally selected the sanitary ware and all the bathroom accessories. Of course, special faucets were a must. "I discovered Hotbath on Instagram. When I saw the Cobber faucets, I was instantly in love. The aged iron finish looks stunning with the dark brown bathroom cabinet and the wall color (Muslin by Painting the Past). I love tonal shades in an interior, but I also always add contrast. The basin faucet is sleek yet rugged, and the color is just a bit different from what you see a lot these days.
We used to have two basins, but we only used one. So, this time, we opted for one large oval basin. Additionally, the tall Cobber basin faucet (CB003HC) with an extra-long spout stands out. I was determined to have the XXL tile (260x120 cm), and in the end, it was possible. Everyone thought I was crazy, but when I want something, I go for it. The unique mirror was also a big wish. It reminds me of a sunset and extends beneath the cabinet. We feel like we're on vacation every day."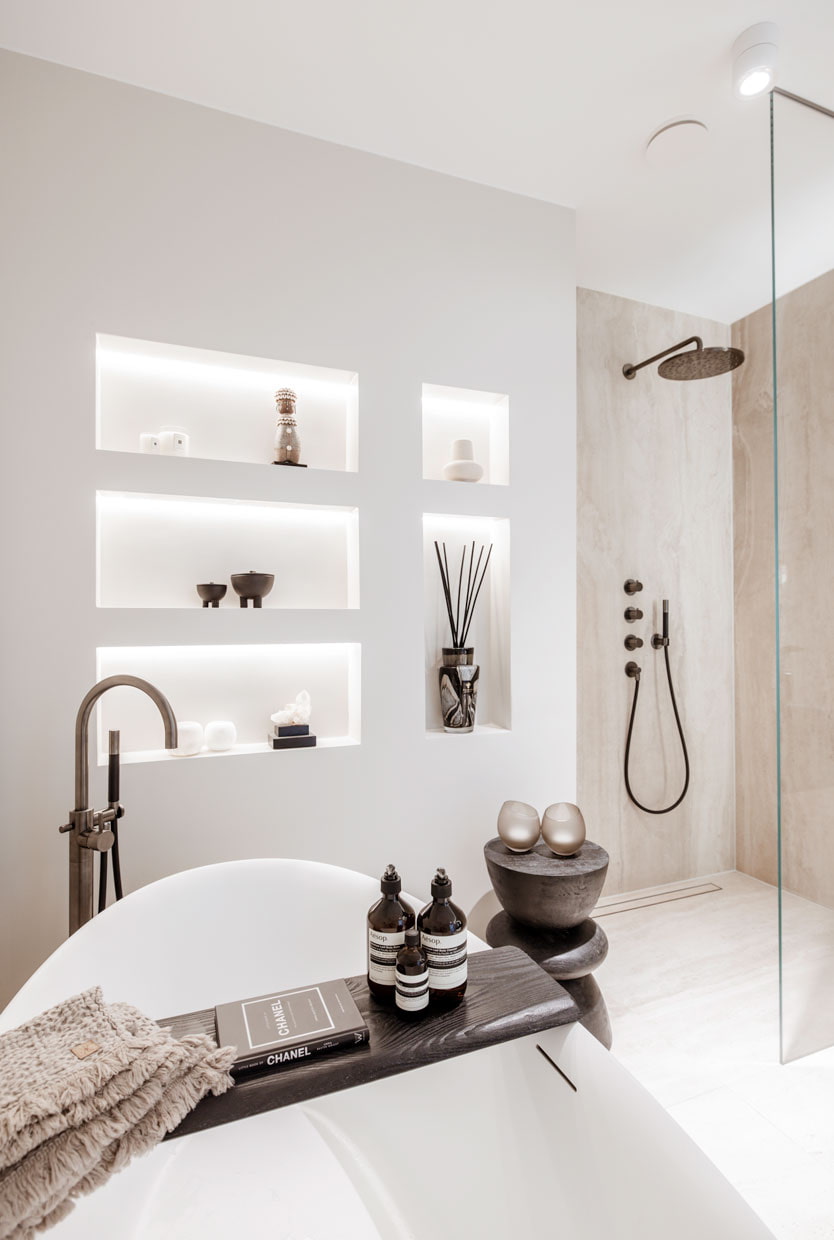 Waterfall on Your Head
Miranda and Marcel chose to expand the bathroom by sacrificing a part of their dressing room. This allowed them to include a 180 cm long vanity unit, a large walk-in shower, a freestanding bath, and a toilet. "We don't regret it. The feeling of luxury and comfort is also thanks to the size of the space. We are often in the bathroom at the same time and don't want to get in each other's way. We are very sensitive to the interplay of lines in an interior. That's why we placed the control knobs of the rain shower vertically on the extra-large travertine tile. This emphasizes the height and is in line with the rest of the bathroom. We always start the day under the extra-large rain shower (Cobber M106), which is attached with a wall arm. The water splashes so nicely on your head and body. It's also an eco-friendly rain shower because it adds air to the water (Ecoair system). It's the perfect way to start our day. We can use the hand and rain shower simultaneously, which is handy when we shower together or want to massage our neck with the water stream."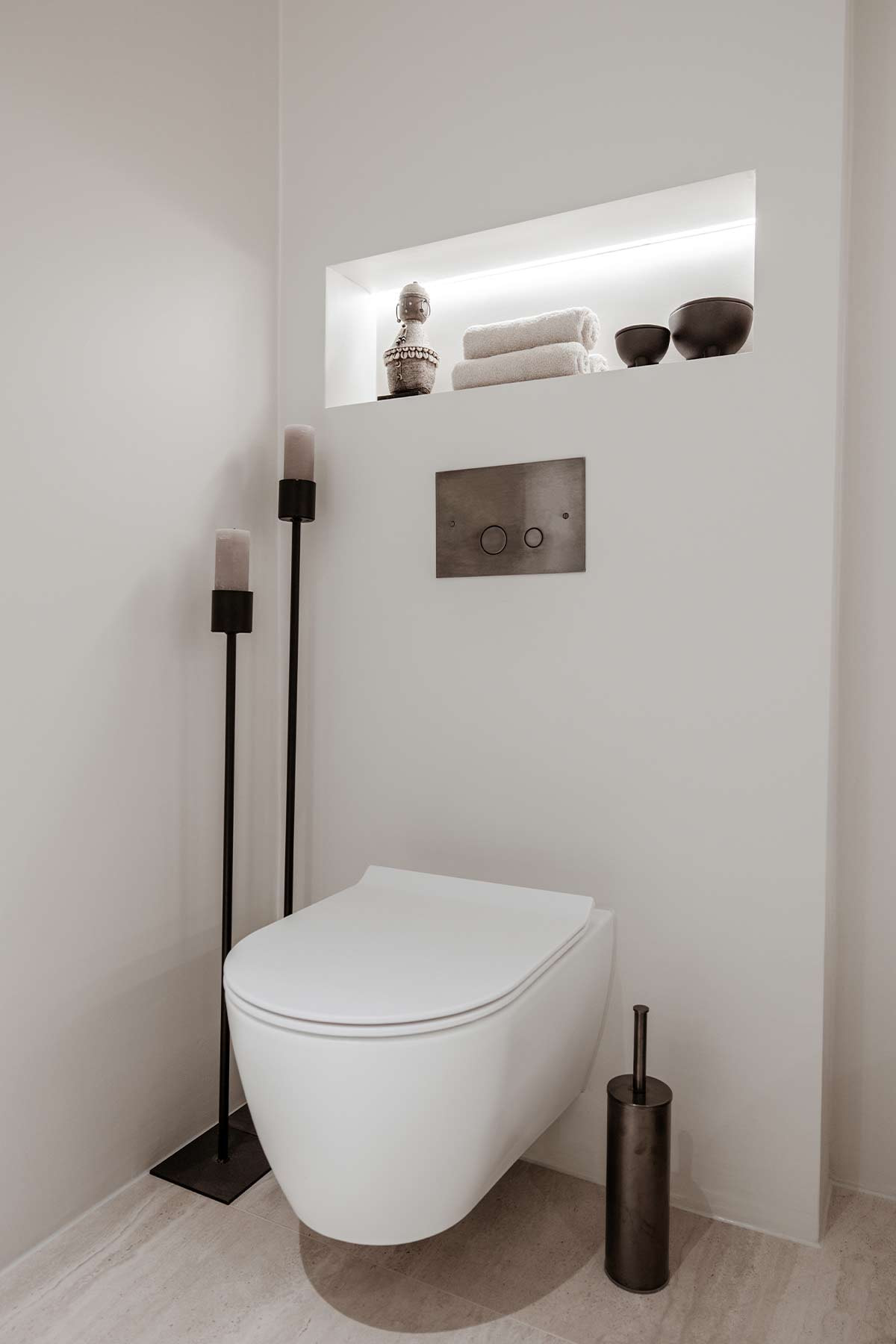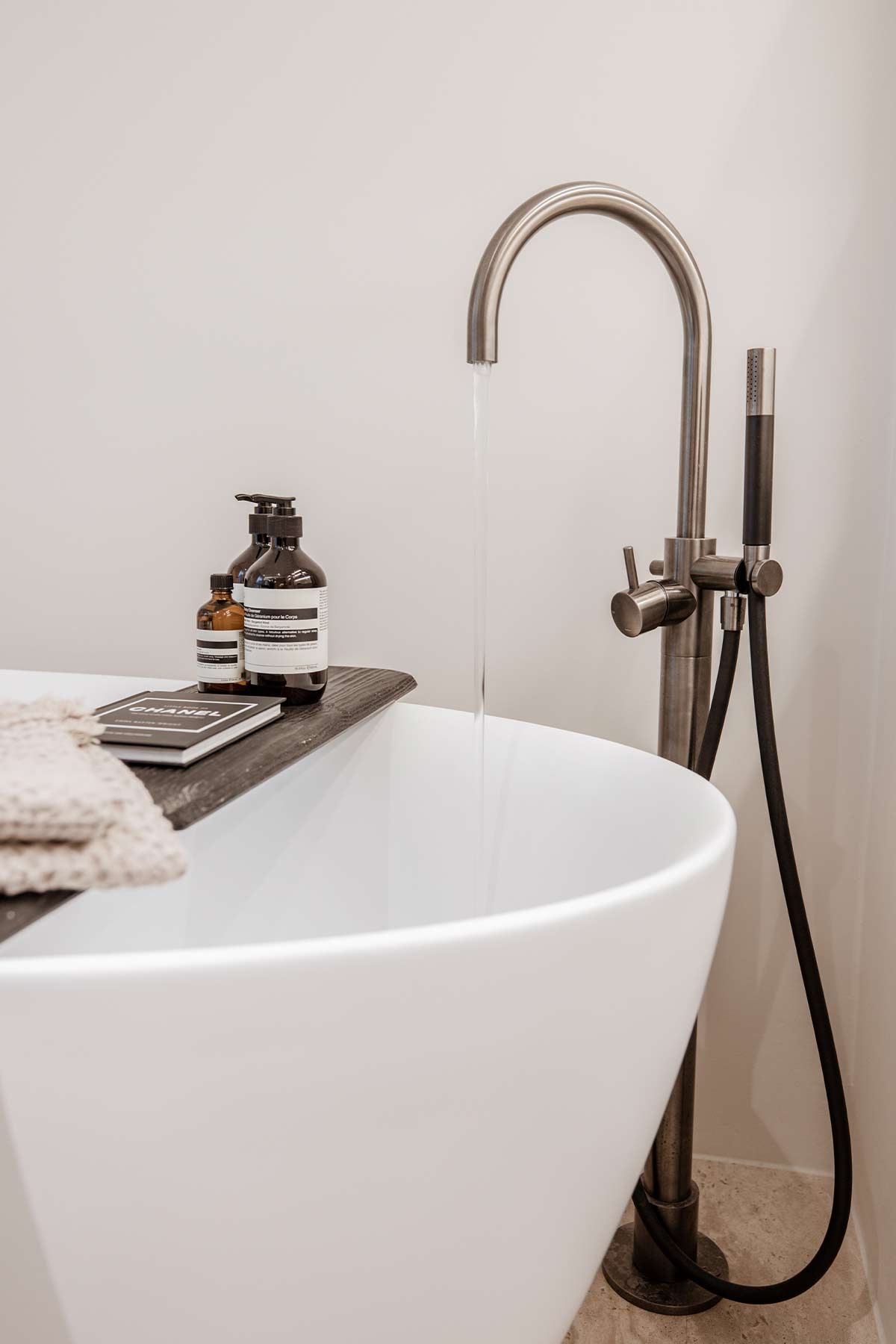 Accessories in Aged Iron
From the shower, Miranda and Marcel have a view of the freestanding bath faucet. "It's visible from all angles in the bathroom, even when you're standing in front of the mirror. I fell in love with it instantly, so we had to have a bathtub," she says with a laugh. "The freestanding bath contributes to the luxurious spa feeling in the bathroom. We mostly use it in the winter. It's the ultimate time to relax in warm water with a glass of wine, music, and a book. The freestanding bath faucet has both something rugged and elegant, and for me, it really completes the bathroom. Unity is important to me. That's why the toilet's control panel, the soap dispenser, and the toilet brush holder are also in aged iron. And there are even more Hotbath accessories on my wish list!"