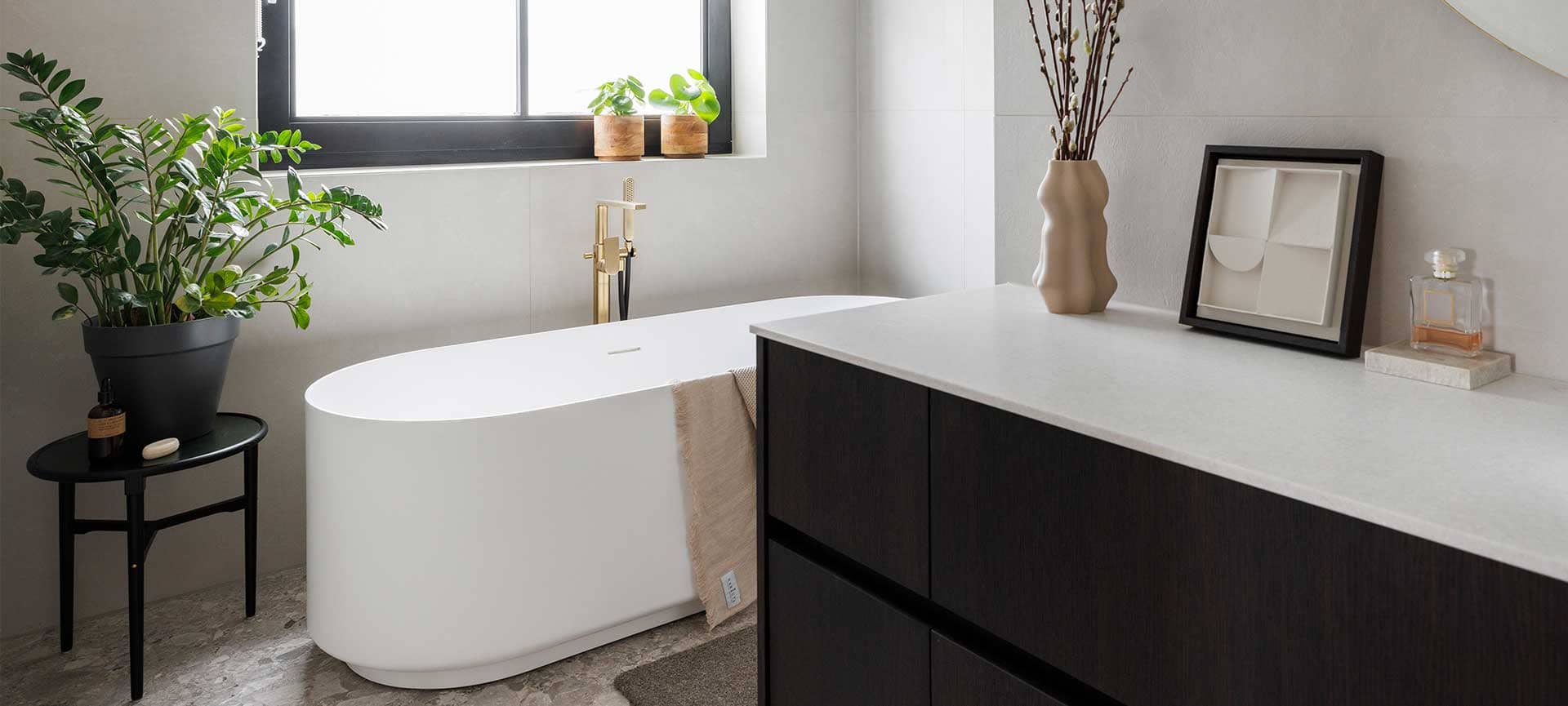 Lotte
In this bathroom, everything is just a bit different
In 2019, Lotte and Rick moved to Muiden with their daughter. Lotte designed the entire interior, and for the two bathrooms, she chose Cobber faucets. Four years later and with an additional daughter, the family has moved to their dream home nearby in the neighborhood. Once again, they chose Hotbath, but they did almost everything differently this time!
Profile
Who Lotte Menzing (37, interior designer and maker of 3D reliefs), Rick (37, working at a bank), and their daughters Bo (5) and Emma (3) Where Muiden Type of House A wooden barn-style house of 210 m² Bathroom 9 m² Notable Feature In the bedroom, there is a walk-in closet with a vanity unit and basin mixer faucet Gal (GL003H).
Lotte: "In 2019, Hotbath was one of the few faucet brands with colored faucets. I wanted matte black Cobber built-in faucets for our bathrooms, and it turned out well." Four years later and with another daughter, the family has just moved to their dream home a bit further down the neighborhood. A detached wooden house located by the water. Once again, they chose Hotbath. "We looked at other brands as well, but in terms of price-quality, design, and options, Hotbath really stands out. We were very happy with our faucets in our previous house, so the choice was quickly made."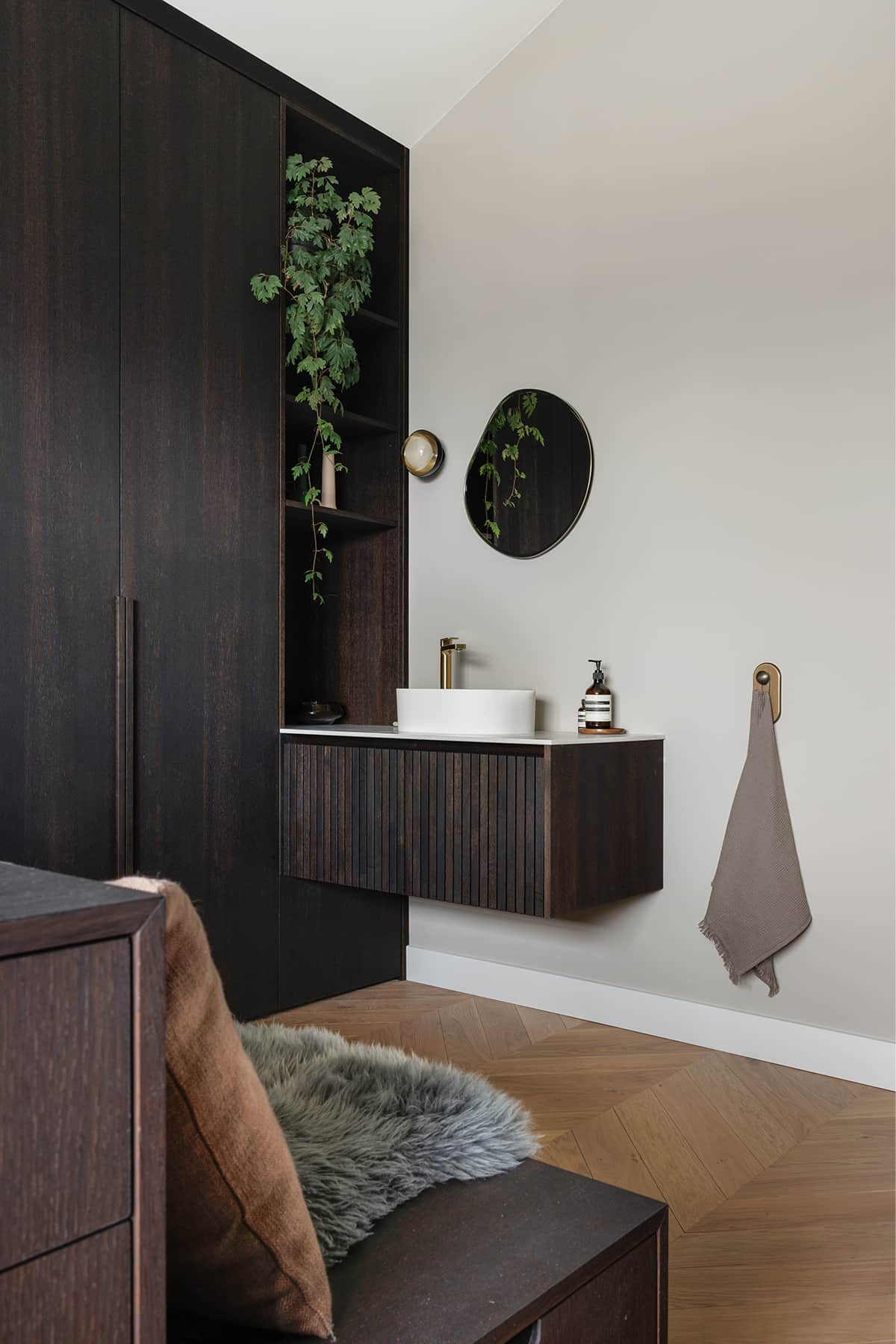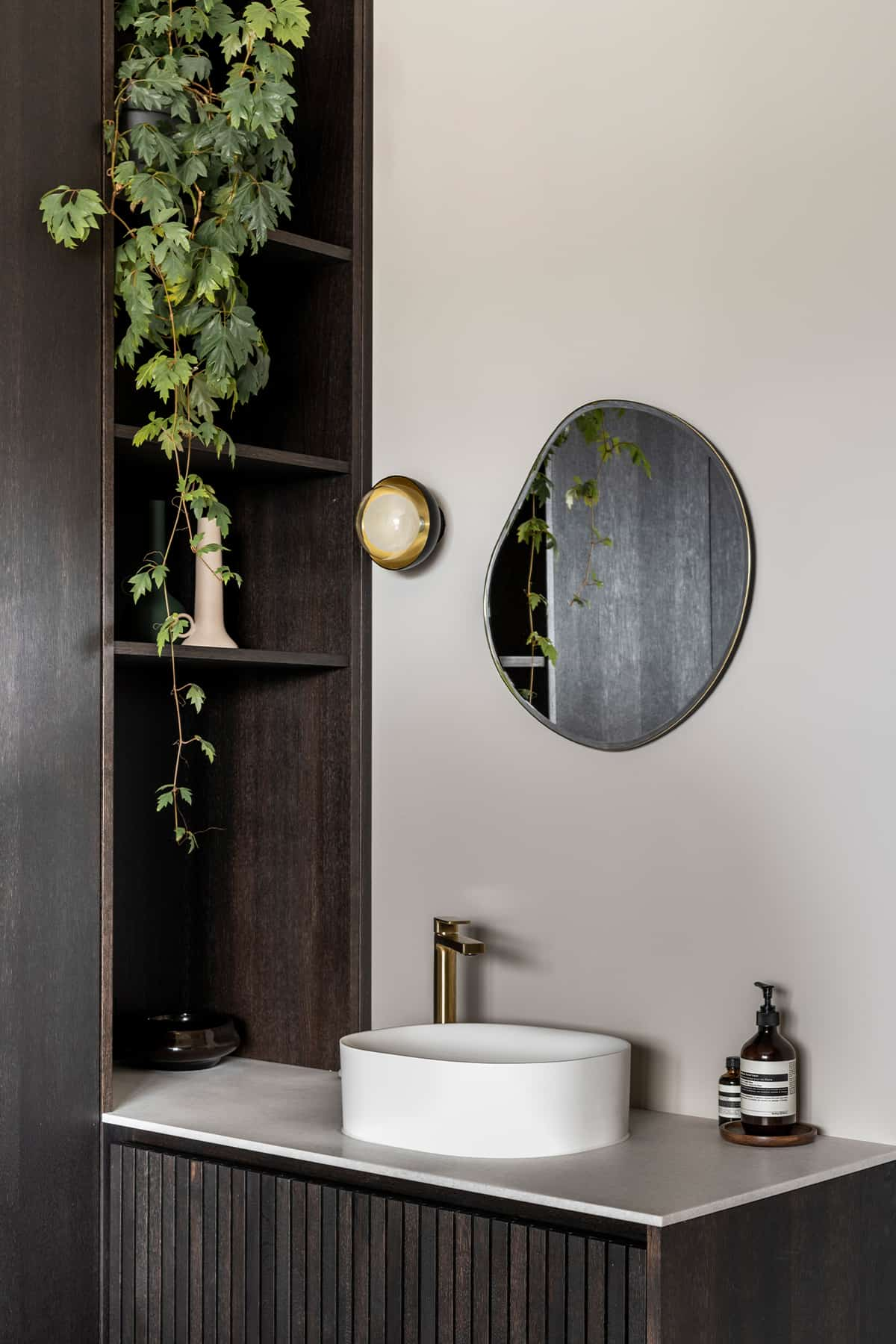 New Bathroom, New Faucet
In their previous house, Lotte and Rick had two bathrooms, but in practice, they only used one. This time, they opted for a single bathroom and an additional vanity unit with the Gal (GL003H) basin mixer faucet in their bedroom. "As the girls grow up, they will likely spend more time in front of the mirror. So, it's handy to have an extra sink. I already notice that it's a convenient spot for a quick hand wash or hair drying." In this house, Lotte wanted to do things a bit differently than last time. They have only one sink in the bathroom instead of two, the built-in niche in the shower has been replaced with a shelf, and they chose a different faucet model.
"I find Cobber very beautiful, but this time, I wanted something different. It worked out well that Hotbath had just launched a new faucet series. Gal looks rugged with its angular lines, and I really like that. It's a departure from all the round shapes you see a lot now. The brushed brass finish complements the materials in our bathroom: a piece of dark stained oak furniture, ceramic tiles with a natural stone pattern, and a white Solid Surface bathtub. The faucets are coated with PVD (Physical Vapor Deposition), so the color stays exactly the same. I like things clean and new, so faucets with a vibrant patina are beautiful but not for me."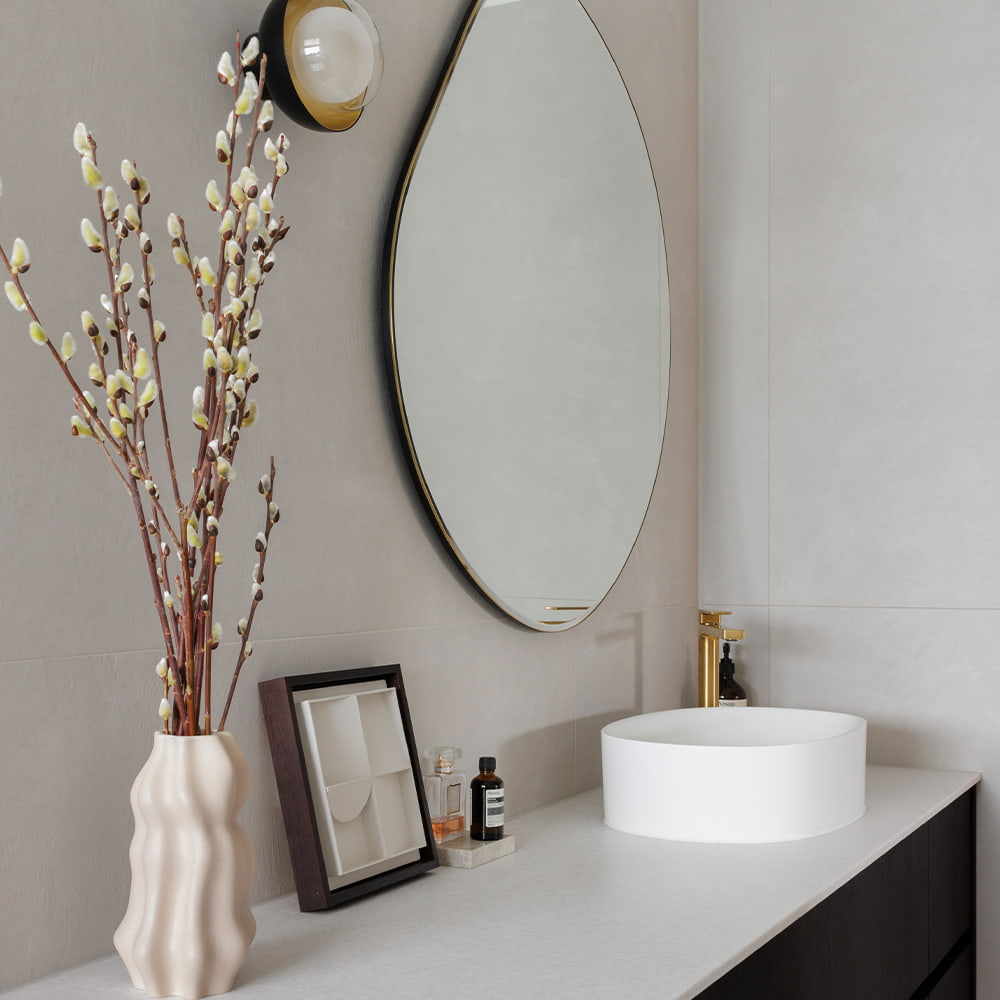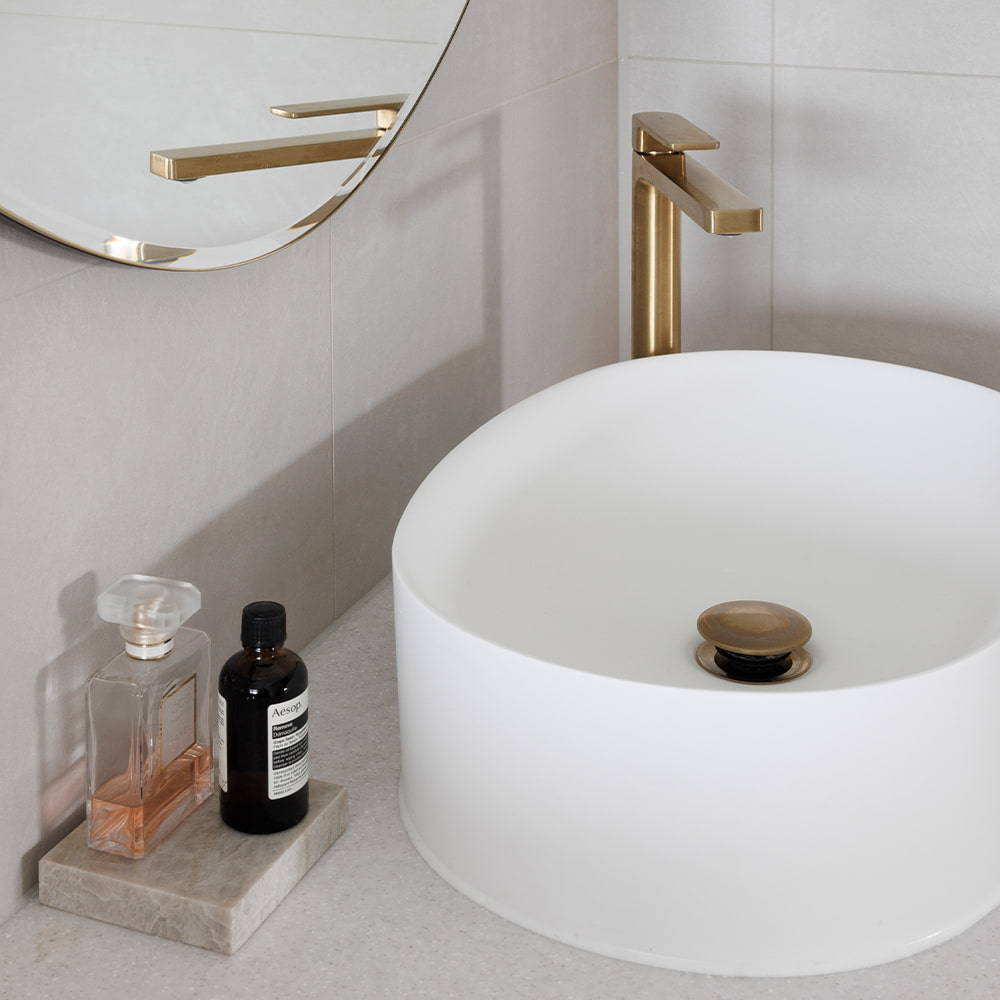 Luxury walk-in shower
One of Lotte and Rick's desires was to have a spacious walk-in shower. "Rick and I hardly ever take baths. I don't have the patience for it. However, we enjoy taking showers. Our shower is 1.75 meters deep and equipped with a slide bar (GL311) with a hand shower (Cobber M353), followed by a rain shower (GL100). I also like to call it a luxury car wash," she says with a laugh. "It's very nice that we can shower together with our children, and it's a bit quicker during weekdays. By setting the hand shower to the lowest position, the girls can stand under it by themselves. I stand under the rain shower, although I actually prefer the hand shower. It has a more powerful stream, and it's handy when you don't want to get your hair wet. The controls to turn the showers on and off are located at the front of the walk-in shower. That way, you never get wet, just like the faucets."
From Two to One Sink
When you enter Lotte and Rick's bathroom, you'll immediately see the handmade wooden bathroom vanity. In their previous home, the couple had two sinks, but Lotte no longer wanted that. "How often do you really stand in front of the mirror together? We never do. I haven't missed the second sink for a moment. We placed the faucet in the corner. Instead of concealed faucets, we now have surface-mounted ones. It's a little different from what you see a lot nowadays. We also really liked the design of the surface-mounted basin mixer faucet Gal (GL003H). Since we didn't have to consider concealed faucets, it was also possible to hang the mirror lower. I think it looks a bit nicer."
There's a freestanding bathtub by the window, which daughters Bo and Emma particularly enjoy. "They often sit in it with a bunch of toys and their goggles on. I think the freestanding bathtub faucet (GL077) is beautiful, and it's also from the Gal series, just like the other faucets. I briefly considered placing it in the corner, just like the basin mixer faucets, but from a practical standpoint, this is the most convenient. That way, the faucet is never in the way when you're in the tub. I really love those kinds of details. I also thought a lot about the visual lines in the bathroom. The tiles align perfectly with the window and door frames, and I knew exactly where the towel bars (GLA07) from Hotbath should go."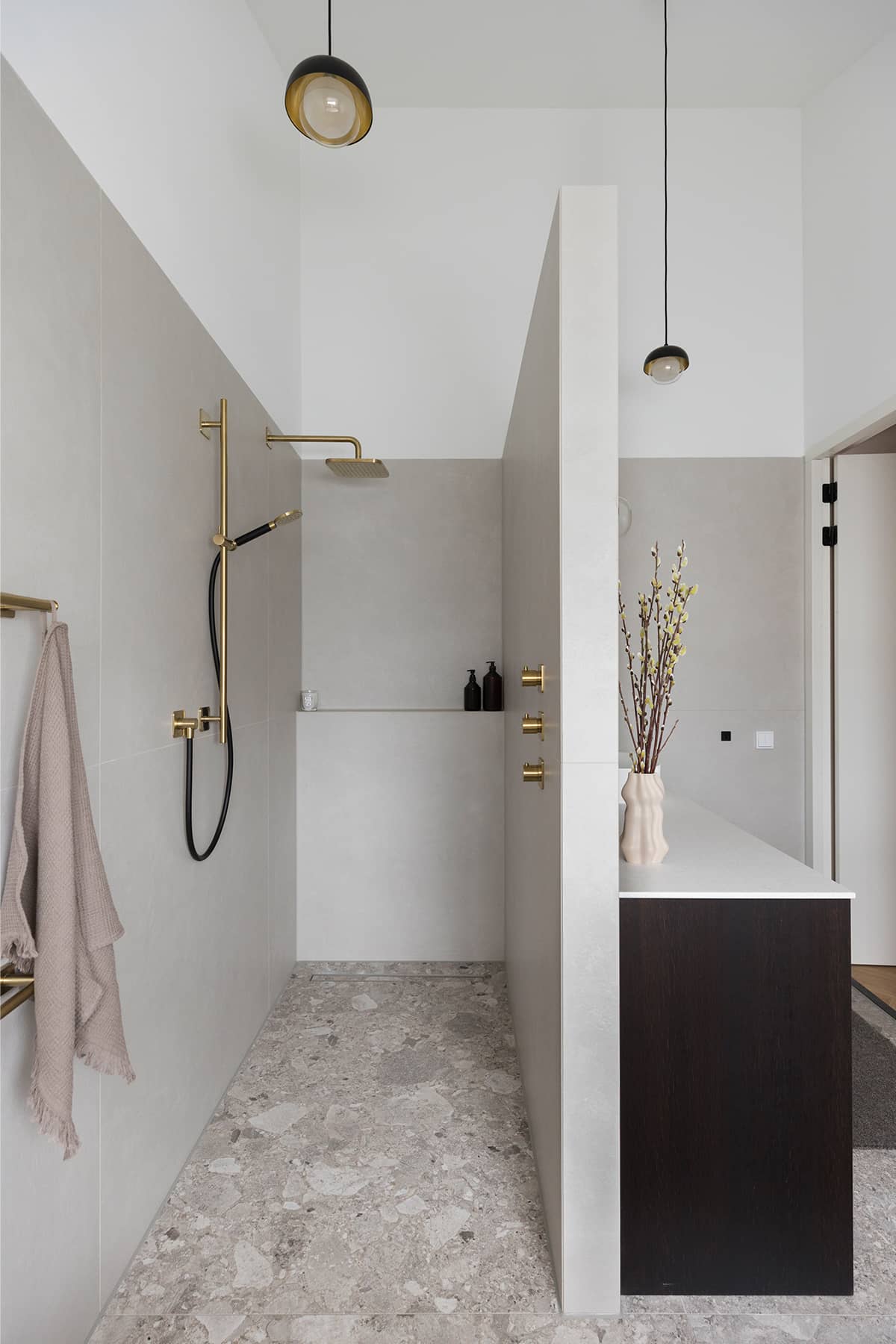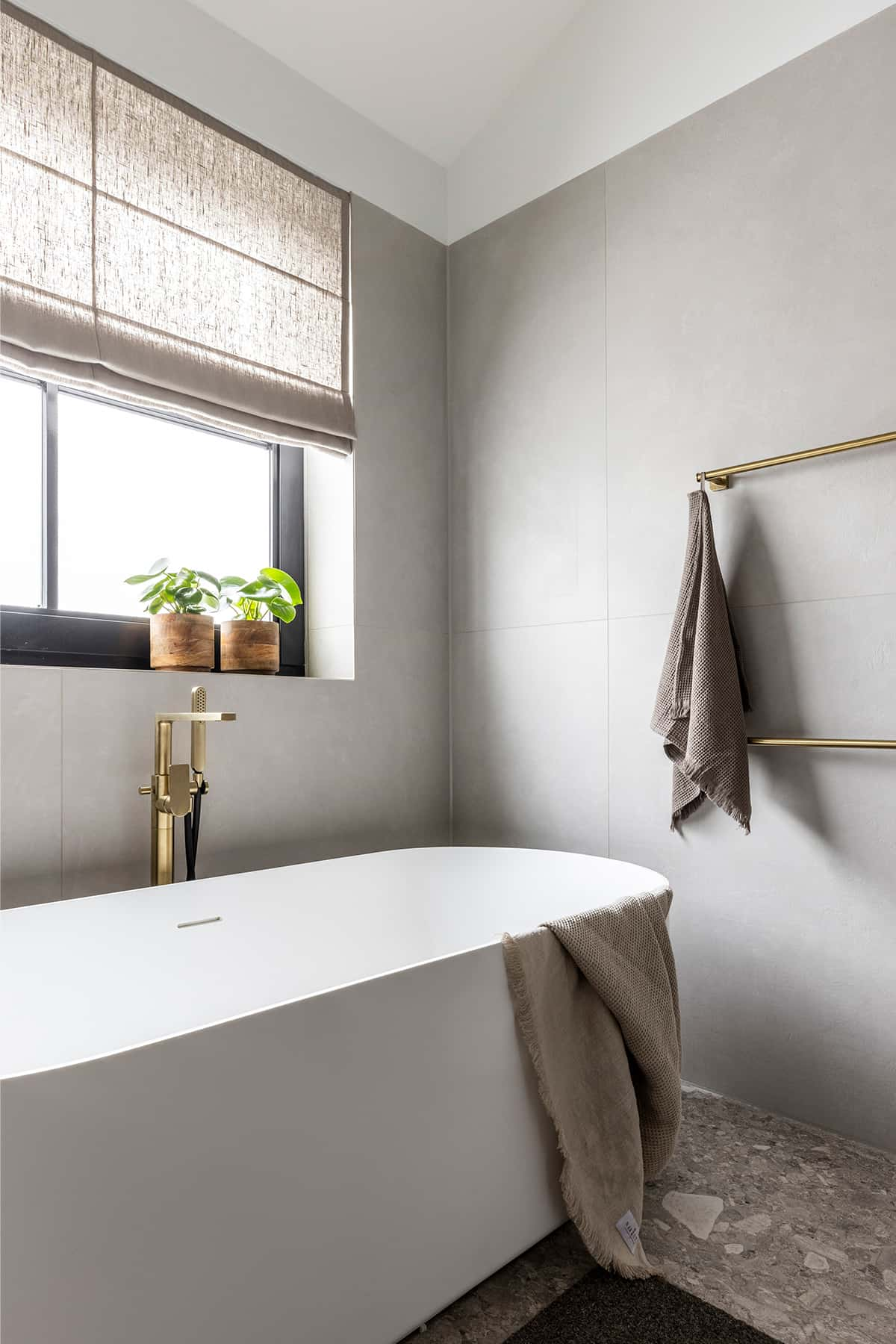 Not Just Any Toilet
Last but not least: the smallest room in the Menzing household is not just any toilet. "I also like to call it our powder room. It's not only a relatively spacious toilet but also a space where you can freshen up before heading out the door. It gives me a bit of a hotel feeling. I designed a piece of furniture with storage space and room for a marble washbasin. Here, too, a basin mixer faucet (GL001) from the Gal faucet series steals the show. The toilet paper holder (GLA04) and the control panel (CBA320) in brushed brass complete the space."