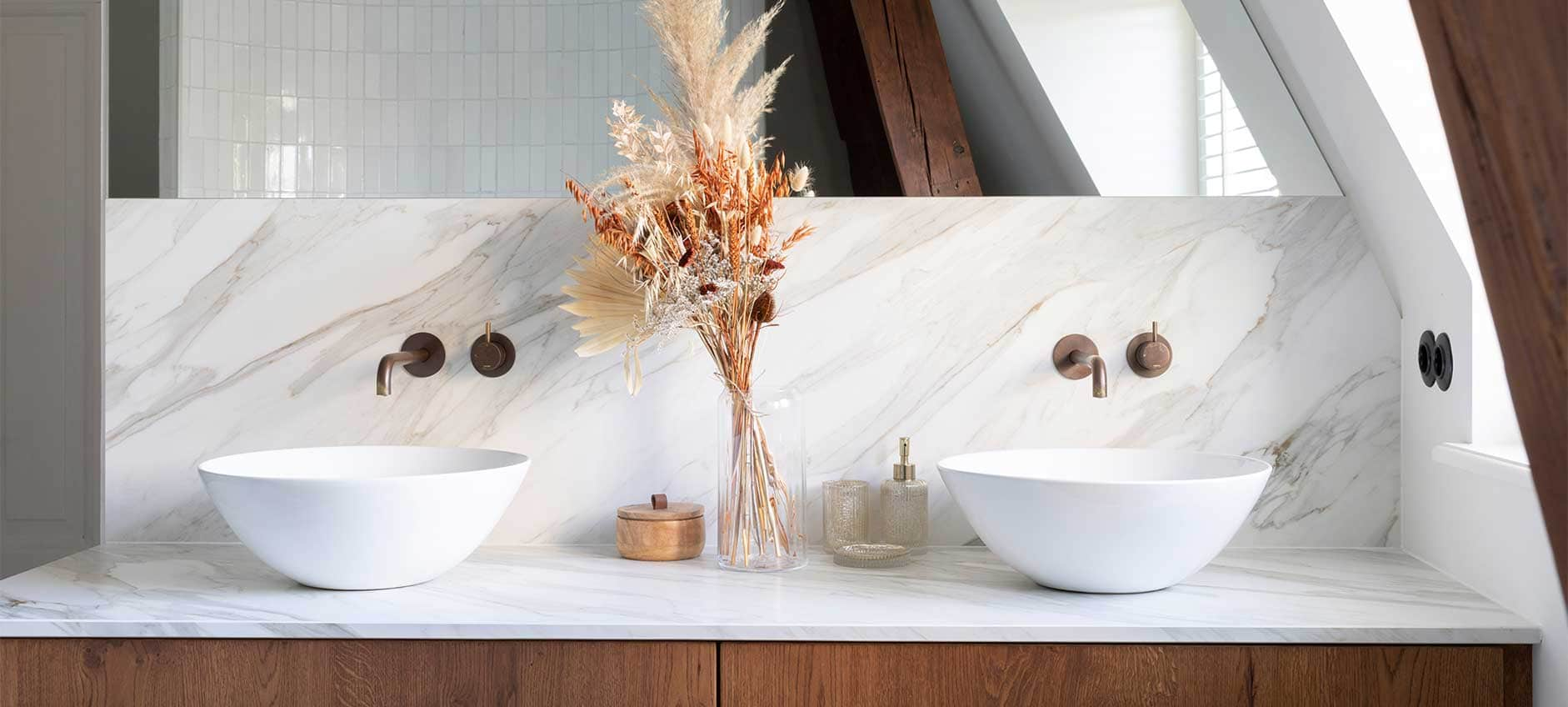 Lieke
The aged brass finish acquires a distinctive patina over time, and this really suits the character of our house from the year 1750 - Lieke
Showering in a historic house
When Lieke and Mark had the opportunity to renovate the bathroom in their mansion from 1750, they really went for it. But it could NOT become a 'showroom bathroom' at any cost. An extensive renovation resulted in an exceptional bathroom full of surprises.
Passport
Who Lieke van Dijk (34, psychiatric nurse), Mark Breure (38, offshore machinist), twins Geerte and Jent (3.5) and daughter Stiene (2) Where An old mansion from 1750 in Tholen (Zeeland) since 1 April 2020 Bathroom The old bathroom, the toilet, a bedroom and several built-in cupboards were removed to make room for the new bathroom of approx. 15 m².
In the spring of 2020, Lieke, Mark and their three children moved to this mansion in the centre of Tholen dating from 1750. They loved so many things about the house, including the large 600 m² garden and the period features. Even so, the house needed a little TLC. Lieke: 'It took a lot of demolition work and patience, but the old beams on the upper floor were eventually revealed. Mark cleaned them all off, sandpapered them and applied furniture oil - by hand. The beams are also visible in our new bathroom and are a lovely feature.' Lieke and Mark were not short of ideas for their new bathroom, but because so much was possible on the spacious upper floor, they decided to get help from an interior designer. 'Dita van der Steege from Sinds1932 helped us design the new bathroom. We removed the old bathroom, toilet, one bedroom and several built-in cupboards to make the new bathroom of approximately 15 m². We wanted the bathroom to exude the atmosphere of the house, and this was achieved. It's now a lovely bright space with gorgeous materials like wood, marble, terrazzo and aged brass Hotbath taps.'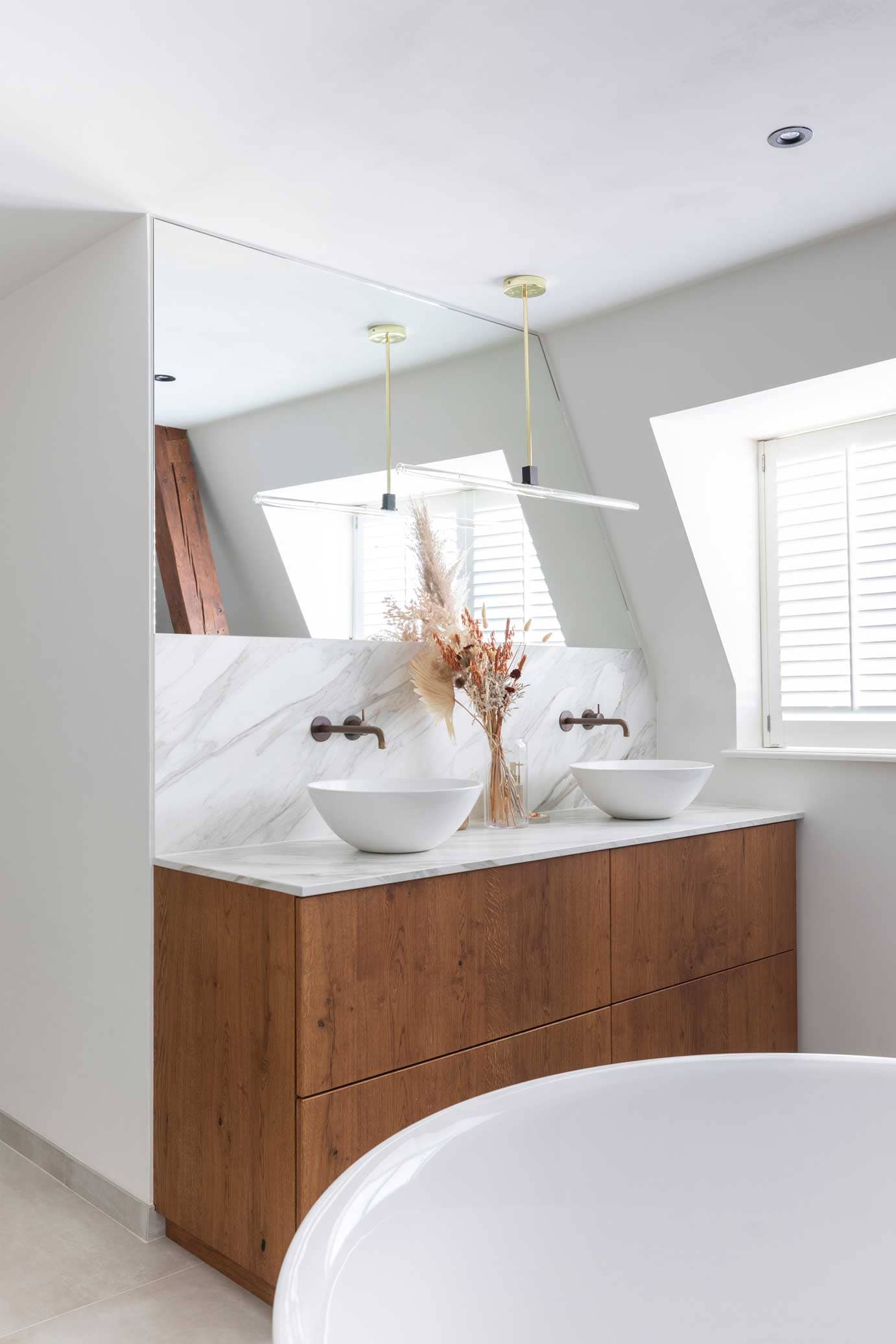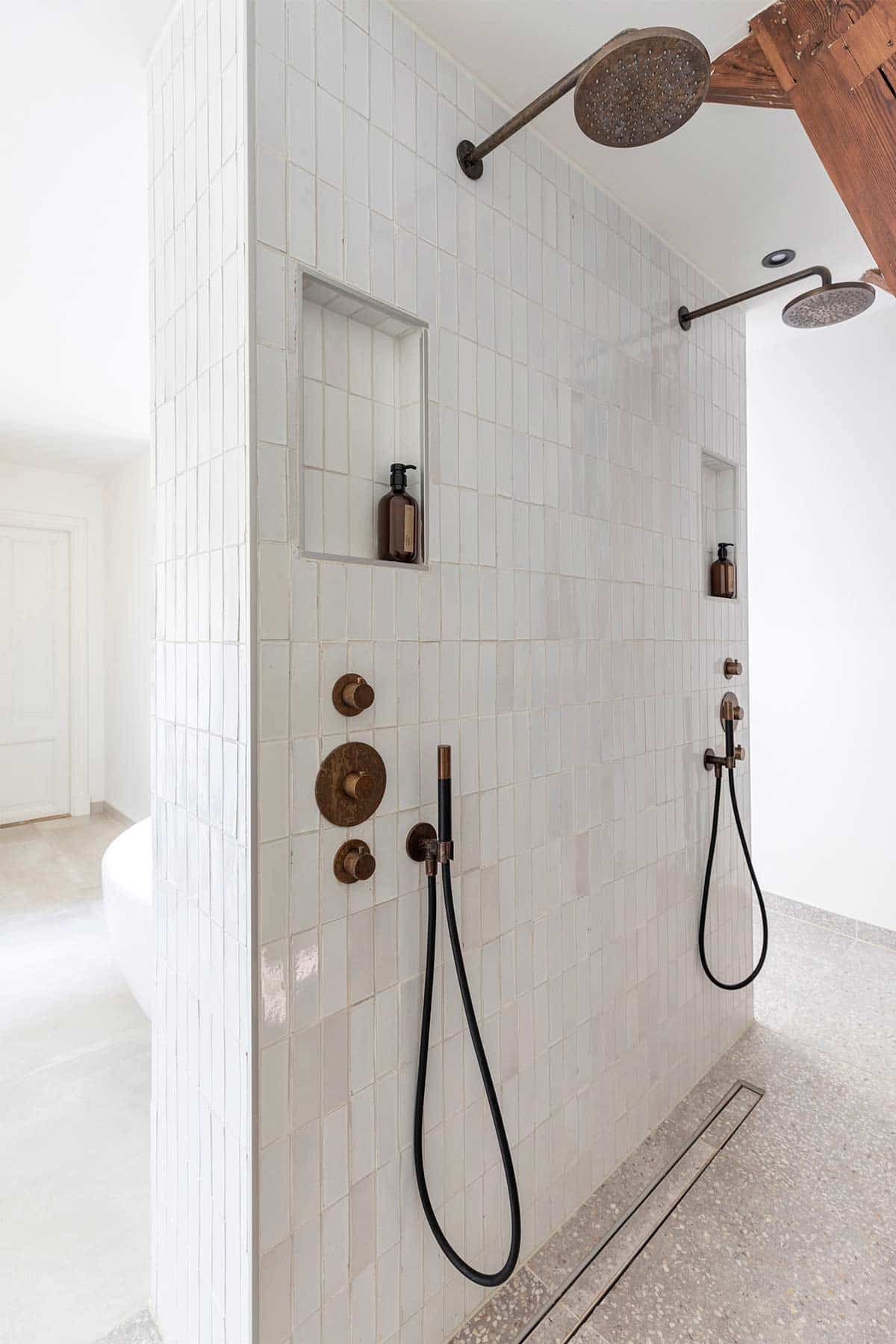 Taps with a unique aged appearance
The bath mixer tap in aged brass is a match made in heaven with the old, battered-looking beams of the house
Lieke and Mark learned about Hotbath through the interior designer. 'She initially showed us some brushed brass taps, but Mark found that a bit too much.' And then we came across the aged brass. This finish is a bit more robust, and we both like that a lot. We knew that aged brass is a more vital material that would naturally change colour through use. You already see how alive the material is on the plug in our bath. The patina that has developed is exceptional and suits the house's character.'
It's not just the taps that catch the eye in this bathroom; the large circular bathtub with a diameter of 160 cm is kind of hard to miss.
'I fell in love with the style and look of the bath right away. All five of us can't fit in there together, but one adult and three children can. The children would have to sit lined up in a traditional or oval bathtub, but they have lots of room to play in this bath. I knew I wanted a free-standing bath before I found this one. If you're going to do up your bathroom, you should do it right the first time, isn't that so? The bath mixer tap (CB077) in aged brass is a match made in heaven with the old, battered-looking beams of the house. Even the plug (P032) and the rotating control are finished in aged brass.'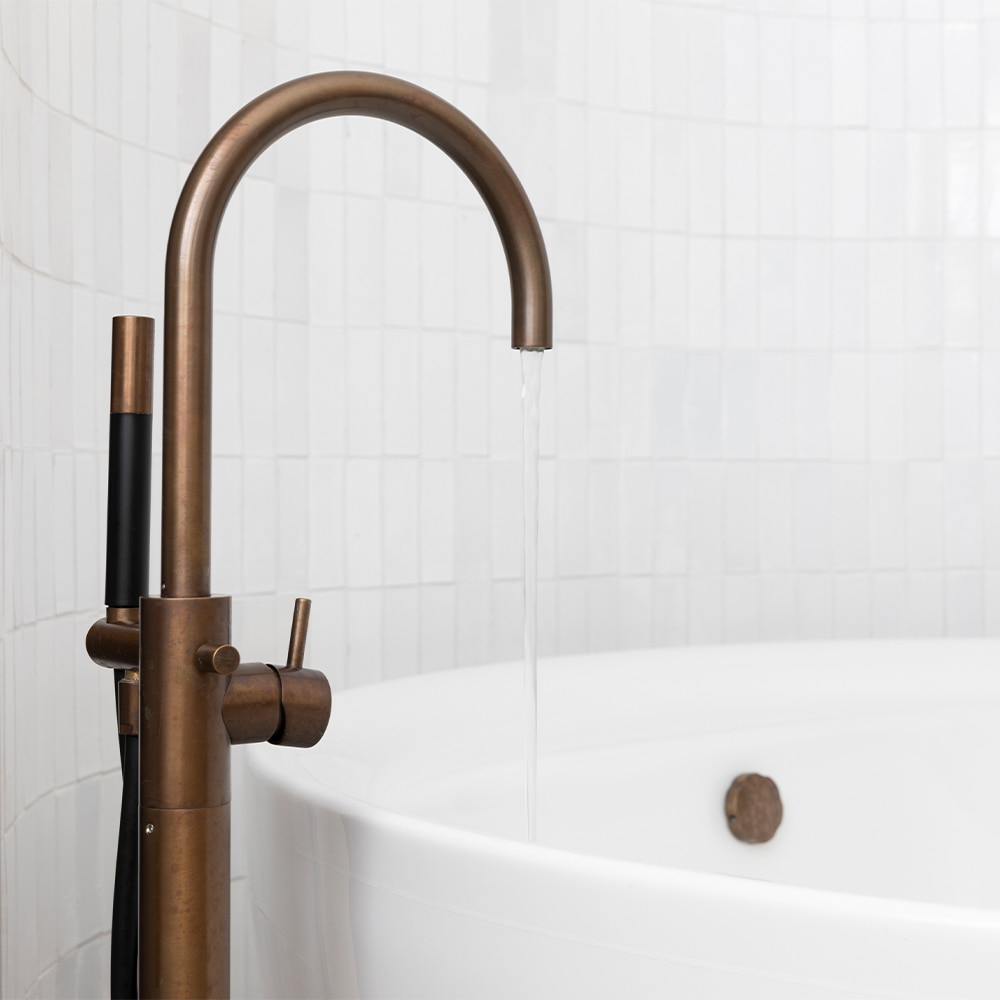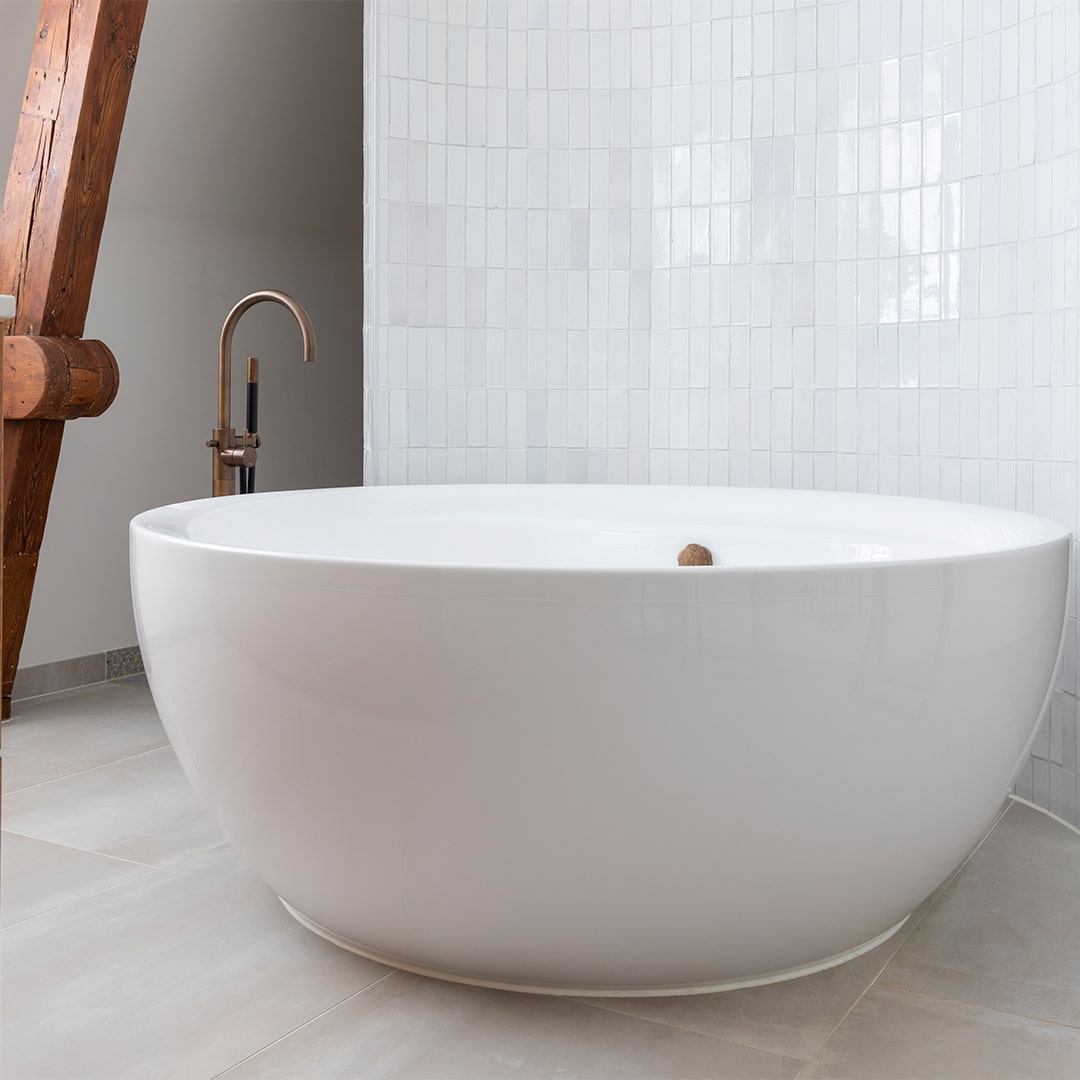 Showering in the 'wash bay'
Behind the wall with Moroccan tiles (Zelliges) are two rain showers attached with a wall bracket. "A spacious walk-in shower with two concealed shower sets was high on our wish list. It's just wonderful. We often jokingly refer to it as our 'wash bay'. We had a rain shower in our previous bathroom, and I absolutely did not want to miss that luxury in the new bathroom. In the mornings, with the kids, it's usually rush, rush, rush, but in the evenings, Mark and I often shower together. And now the children can also take showers together. There's often squabbling about who gets to stand alone under the big rain shower. The slim hand-held showers have a powerful jet of water, and we use them for rinsing shampoo from hair, cleaning off the shower and rinsing yourself off quickly on a warm day.'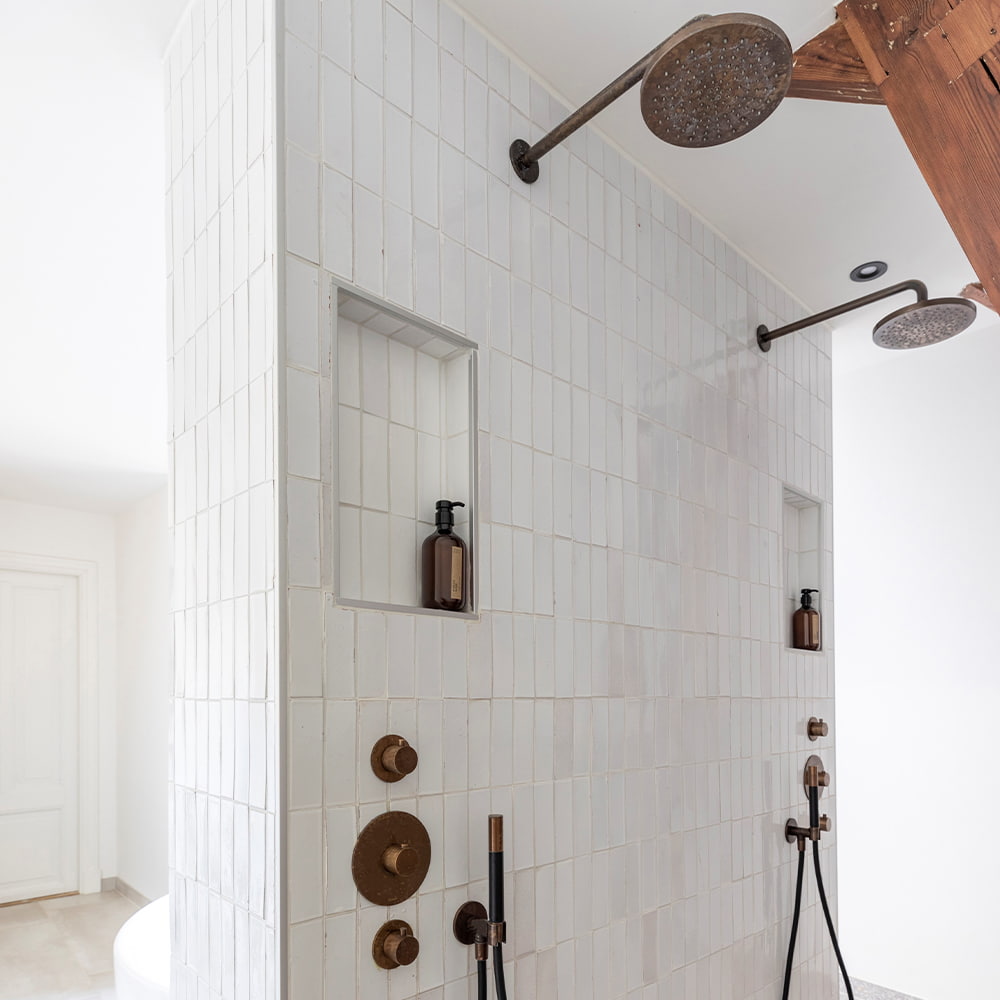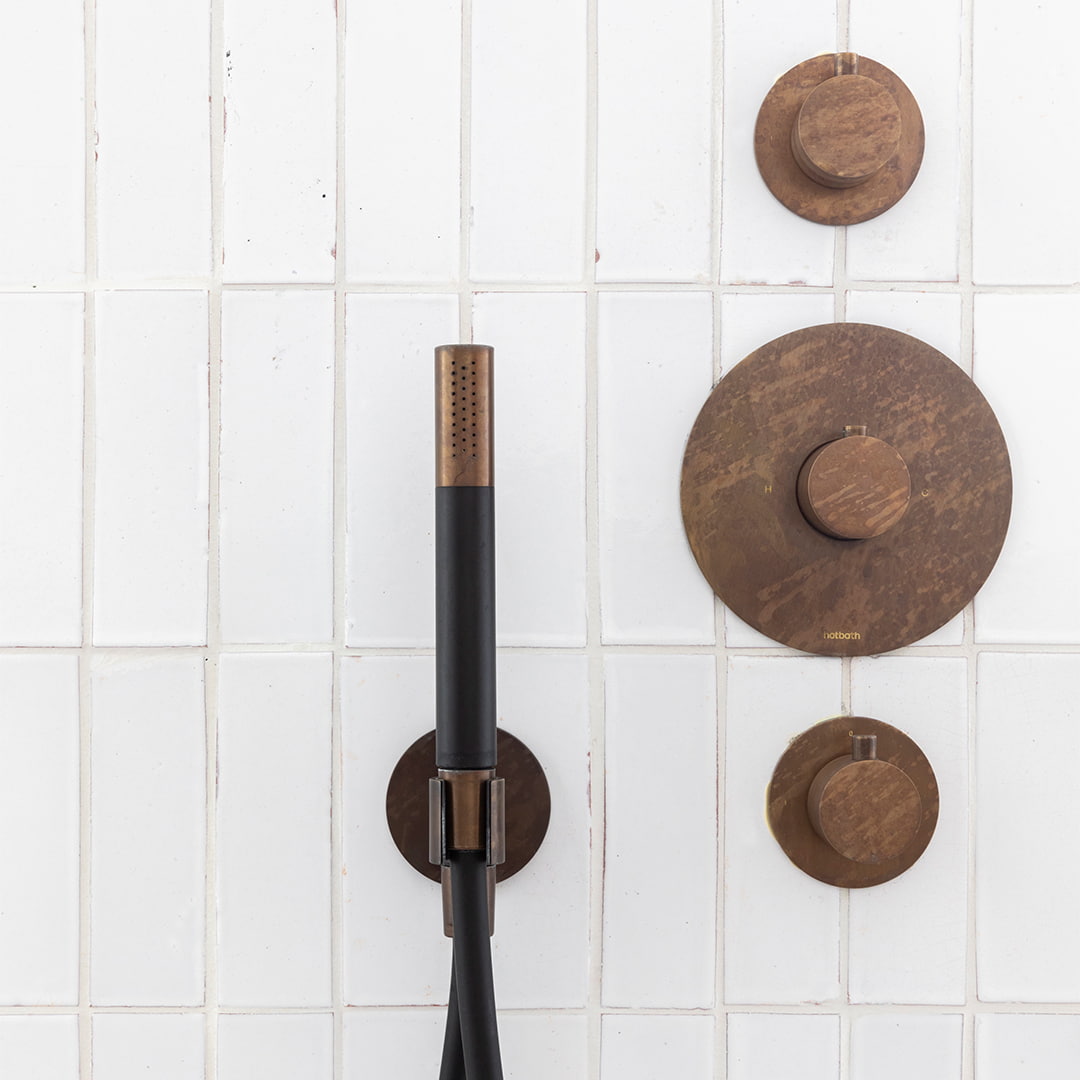 The special surprise in the house
Lieke is not someone to spend hours in front of the mirror, even though the corner where the custom-made wash-hand basin furniture is beautiful to look at. 'Because of the large mirror, the double wash-hand basins and the taps, I sometimes feel like I'm in the bathroom of a hotel. Here we also chose to have concealed taps (CB005-18) with an aged brass finish. They are nicely integrated into the wall with a control panel to the right. So when we have visitors and are showing them around the house, we deliberately save the bathroom for last. It's the special surprise in our house!'
See all the photos of Lieke's bathroom: