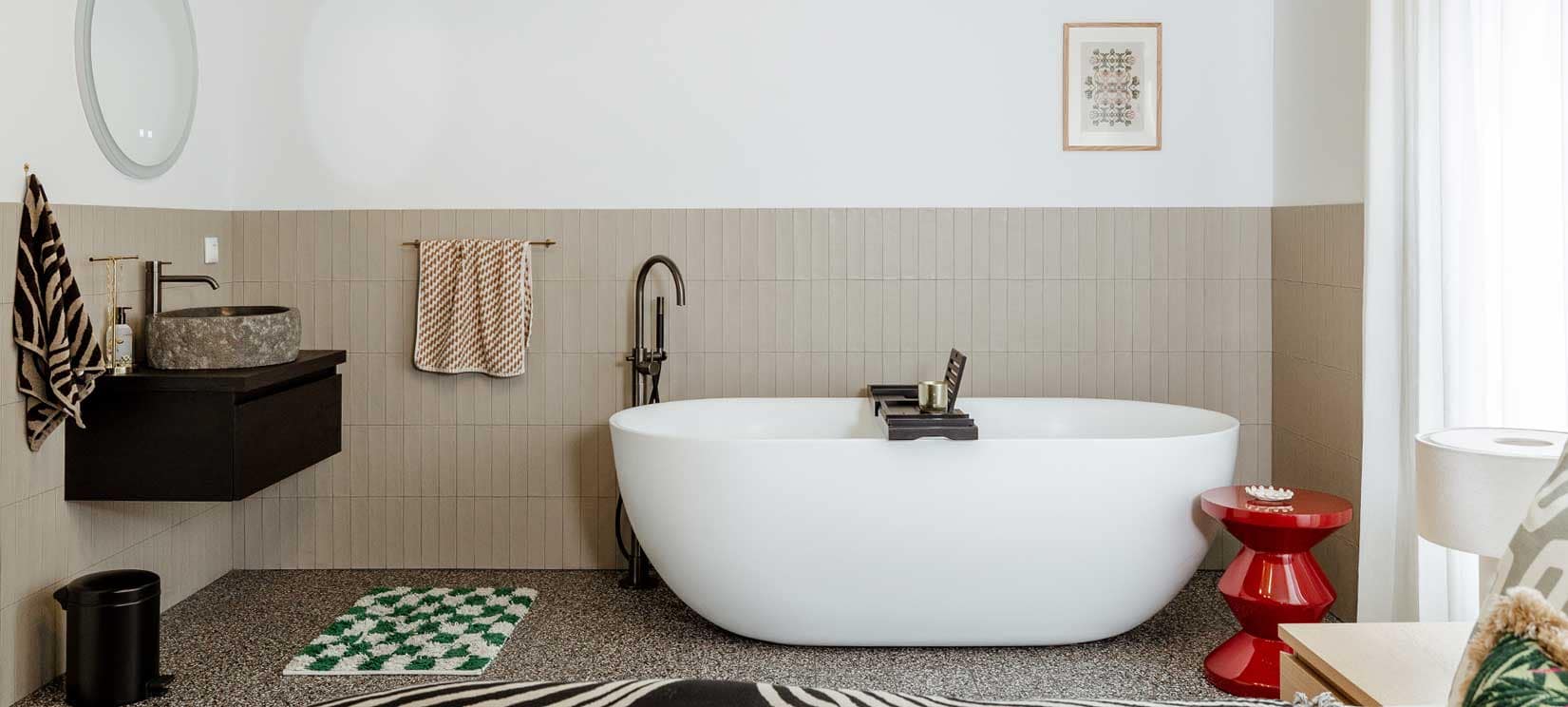 Kayleigh
Bathroom En Suite in 5m²
Kayleigh and Joost from Tegelen prove that you don't need a lot of space to create a bathroom en suite. By sacrificing a built-in closet in their bedroom, they made room for a freestanding bathtub and a vanity unit, all right next to their bed!
Profile
Who Kayleigh Martens (31, works as an E-commerce and Online Content Creator at a tile and sanitary ware store) and Joost Ellenkamp (32, production engineer) Where Tegelen Type of House Townhouse from 1936, split into two houses in 1961.
Kayleigh: 'The original kitchen and bathroom are with the neighbors' Bathroom Long and narrow with a shower, toilet, and vanity unit Notable Feature In the bedroom, a bathroom en suite was created in 5m².
When Kayleigh and Joost find their dream home in Tegelen, there is one problem. The existing bathroom with a shower, toilet, and vanity unit is too small for a bathtub. And that's a disappointment for them as avid bath lovers. "Then why not put a bathtub in the bedroom," suggests Kayleigh's father-in-law. Kayleigh says, "That was a good idea that hadn't occurred to us. The bedroom is relatively large at 20m². By removing a built-in closet, we made room for a bathroom en suite. Joost did the electrical and plumbing work himself." It took some puzzle-solving because the couple had to consider a balcony door and had limited space of 3.65 by 1.40 meters. "A freestanding bathtub takes up the most space, but we thought it was the most beautiful. By placing the bathtub against the wall, we have enough space to step out of the bath. And with such a beautiful bathtub, a freestanding bathtub faucet is a must!"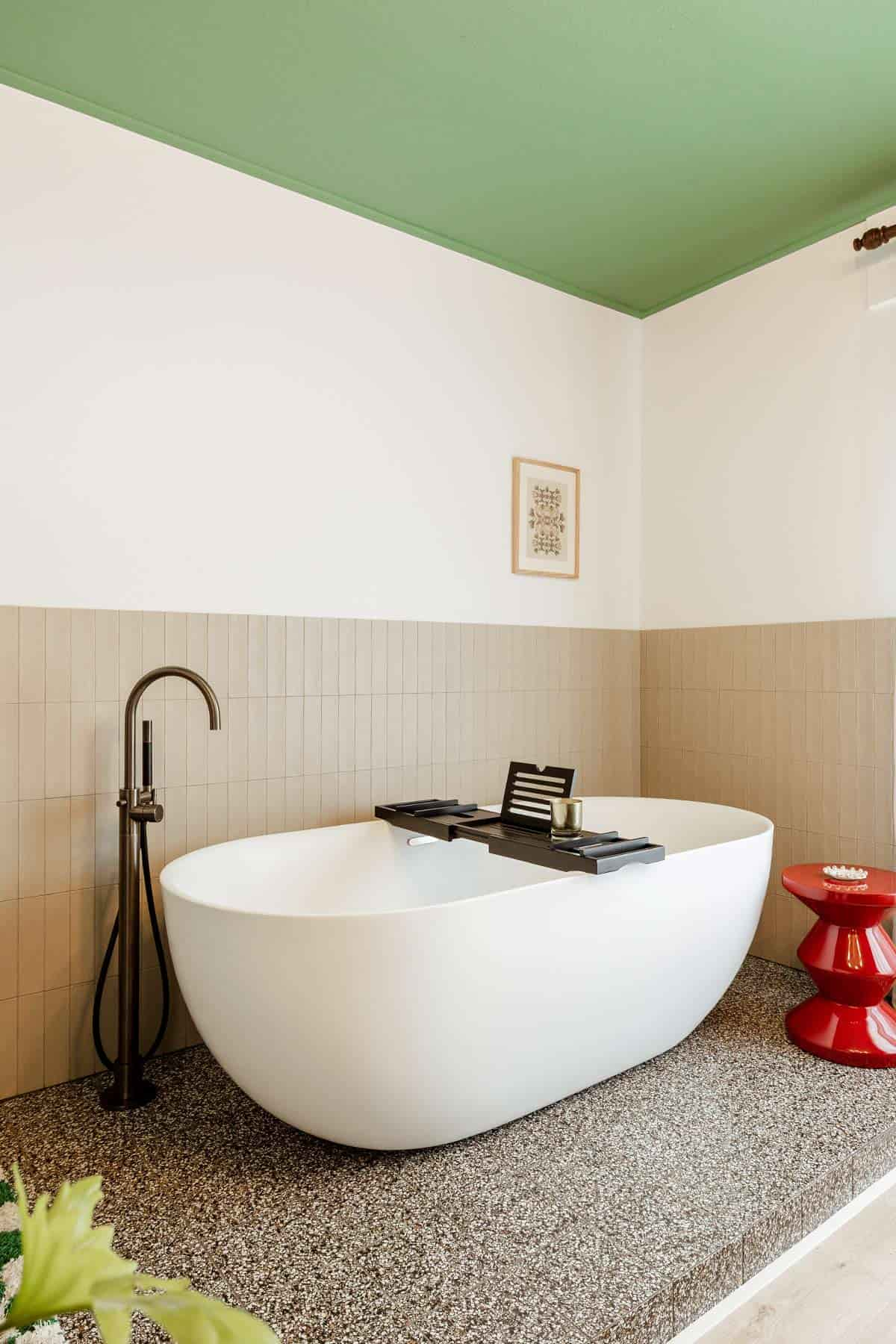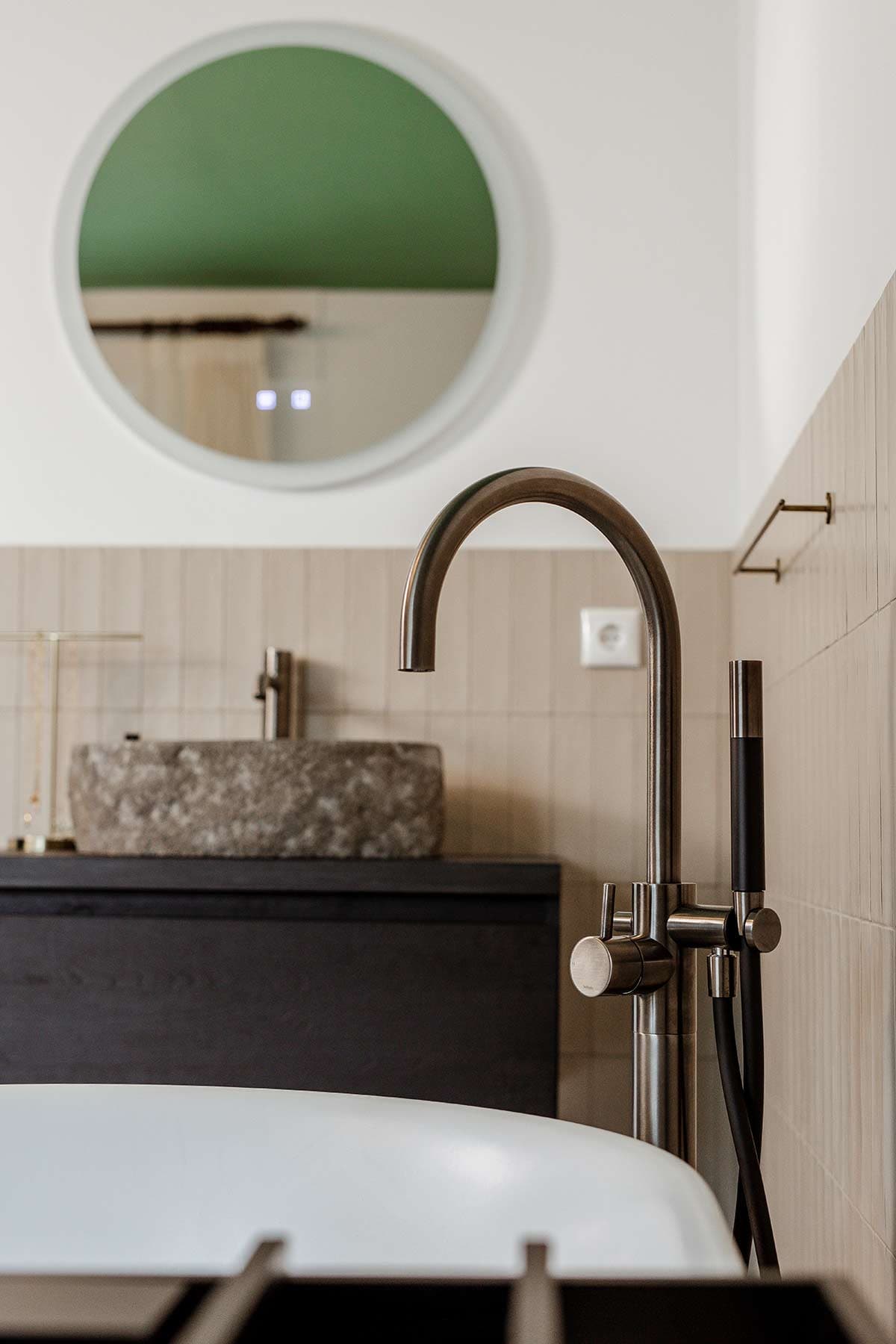 Hotel Feel with a Freestanding Bathtub Faucet
Kayleigh already knows Hotbath through her work at Tegel-Outlet/Tegelstudio in Tienray. "My colleagues are very enthusiastic about Hotbath, and we hear good things from our customers too. Having a freestanding bathtub faucet for our bath was a big wish. It creates a hotel feel. I always liked the Cobber faucet series, and in this series, there's also a freestanding bathtub faucet with floor mounting (CB077). Perfect for our bath! It made the most sense to place the bathtub faucet at the back left of the bath. If you place it at the head, someone always ends up with their head against the faucet. This is the most practical but also beautiful. We really wanted a bath because we use it a lot. In the past, I had a lot of stomachaches, and the only thing that helped was taking a warm bath. We wash our hair in the shower; the bath is mainly for relaxation now. In the winter, it's practically part of my evening routine, and I take a bath at least once or twice a week. I often add a generous amount of bath foam, bath oil, or bath salts to the water and enjoy watching series or YouTube videos from the bath. And then I jump straight into bed. It still feels very luxurious."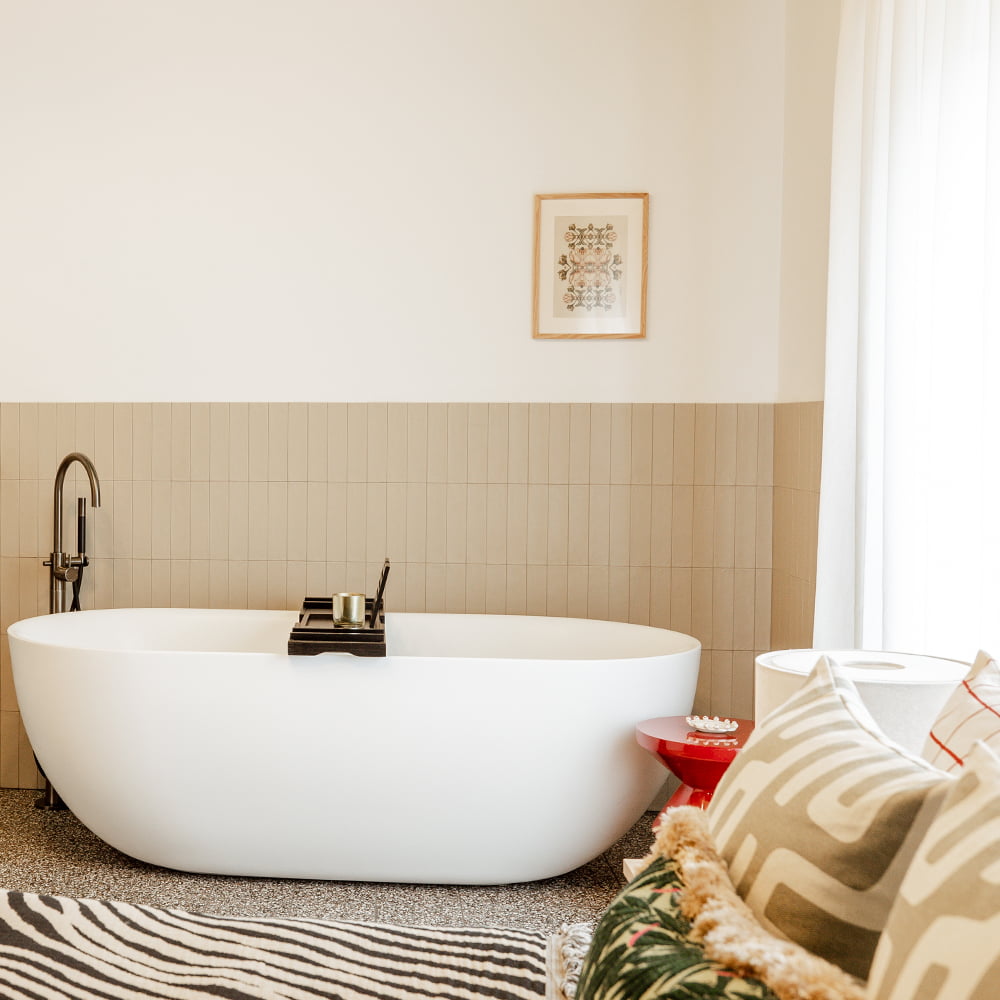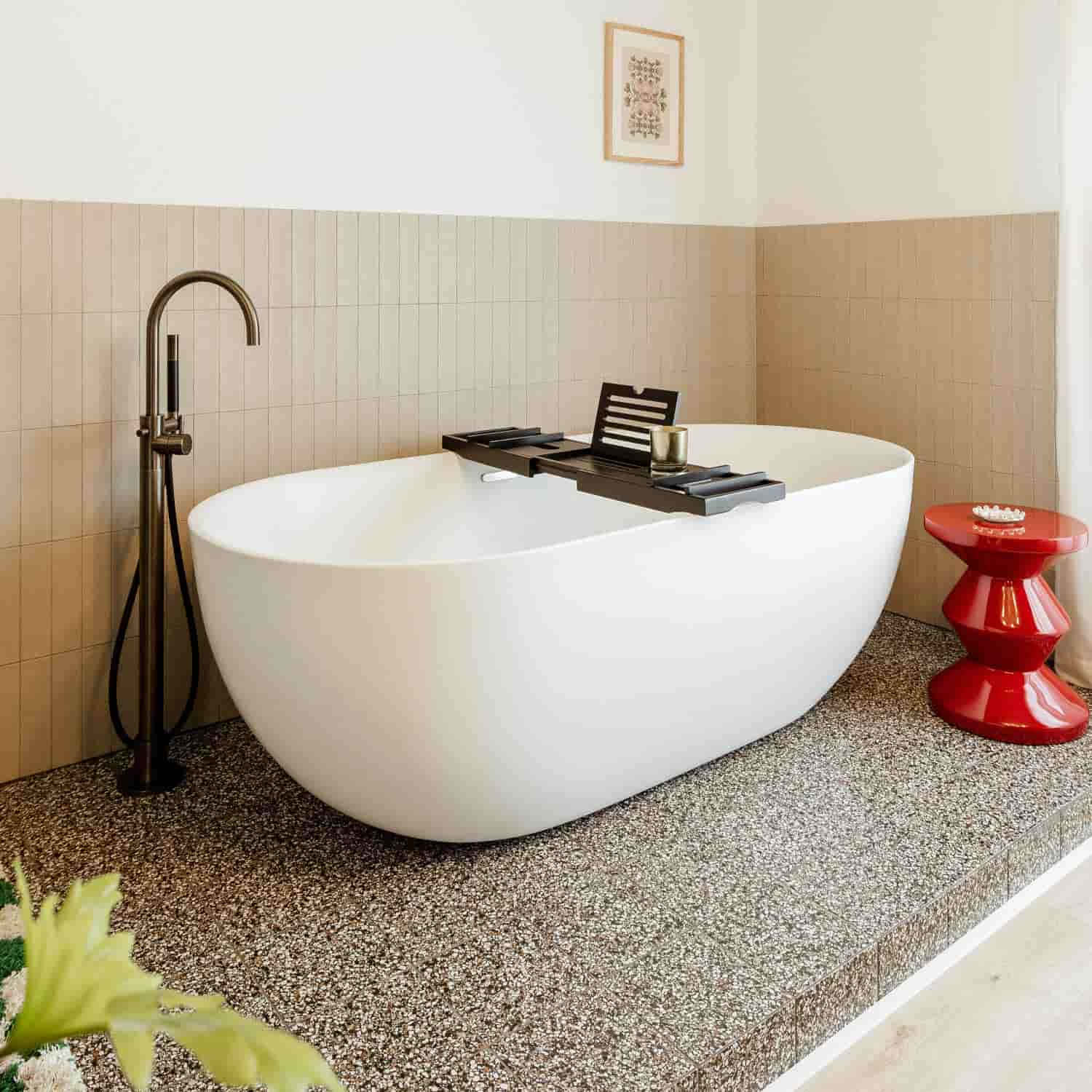 Green, Terrazzo, and Faucets in Aged Iron
A colleague of Kayleigh suggests placing a vanity unit next to the bathtub. "There was plenty of space for it, and in practice, it's very convenient to have a sink in the bedroom. I wash my face there in the morning, do my makeup, and my boyfriend uses the sink to shave." Kayleigh found inspiration for the bathroom en suite on Pinterest. "That's where I got the idea for a green ceiling, which was the starting point for the rest of the bathroom en suite. Then I looked for colors and materials, like a gold lamp, silver accessories, a black vanity unit, and terrazzo tiles. I like to combine different styles and often describe my taste as eclectic chic. I find the aged iron finish very attractive in combination with the green ceiling and the terrazzo tiles. I have a soft spot for gold too, but aged iron is just a bit more timeless."
Bathroom En Suite of Your Dreams
The basin mixer faucet (CB003HC) that Kayleigh and Joost have is slightly taller than standard and has a longer, curved spout. "After some consideration, we decided to place it behind the natural stone washbasin instead of on the left or right side. We prefer a straight line pattern. We've been using the bathroom en suite for about four months now, and the faucets still look very nice. We take good care of them and dry the bathtub faucet after use. The plug in the washbasin is also made of aged iron, and you naturally see water splashes on it after use. I clean it once a week with Hotbath's bathroom cleaner, and then you can't see anything." With such a beautiful bathroom en suite, is there anything else to wish for? "In the long term, we would like to replace the unbranded, matte black faucets in our other bathroom with Hotbath faucets in aged iron. You always have to have something to wish for, right!"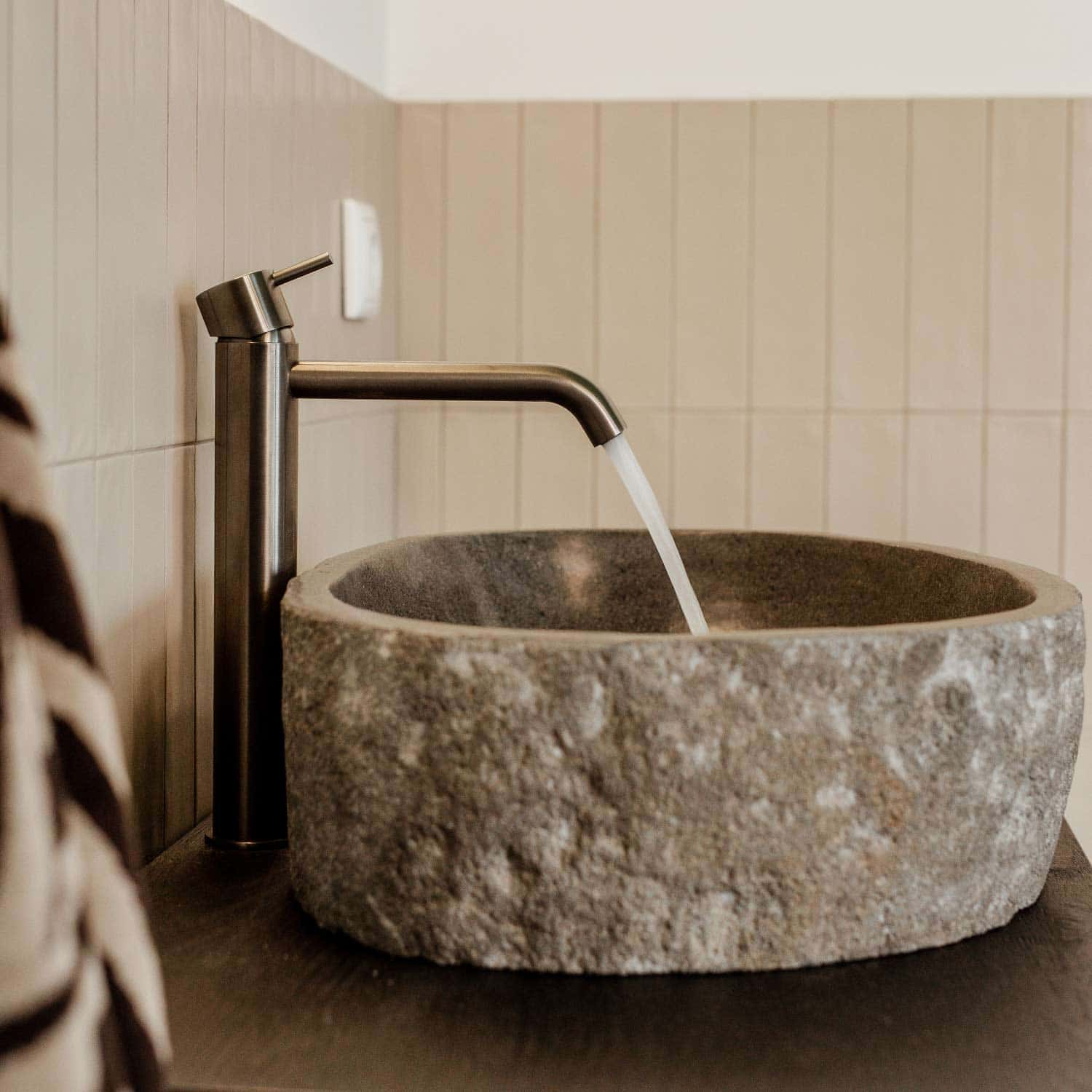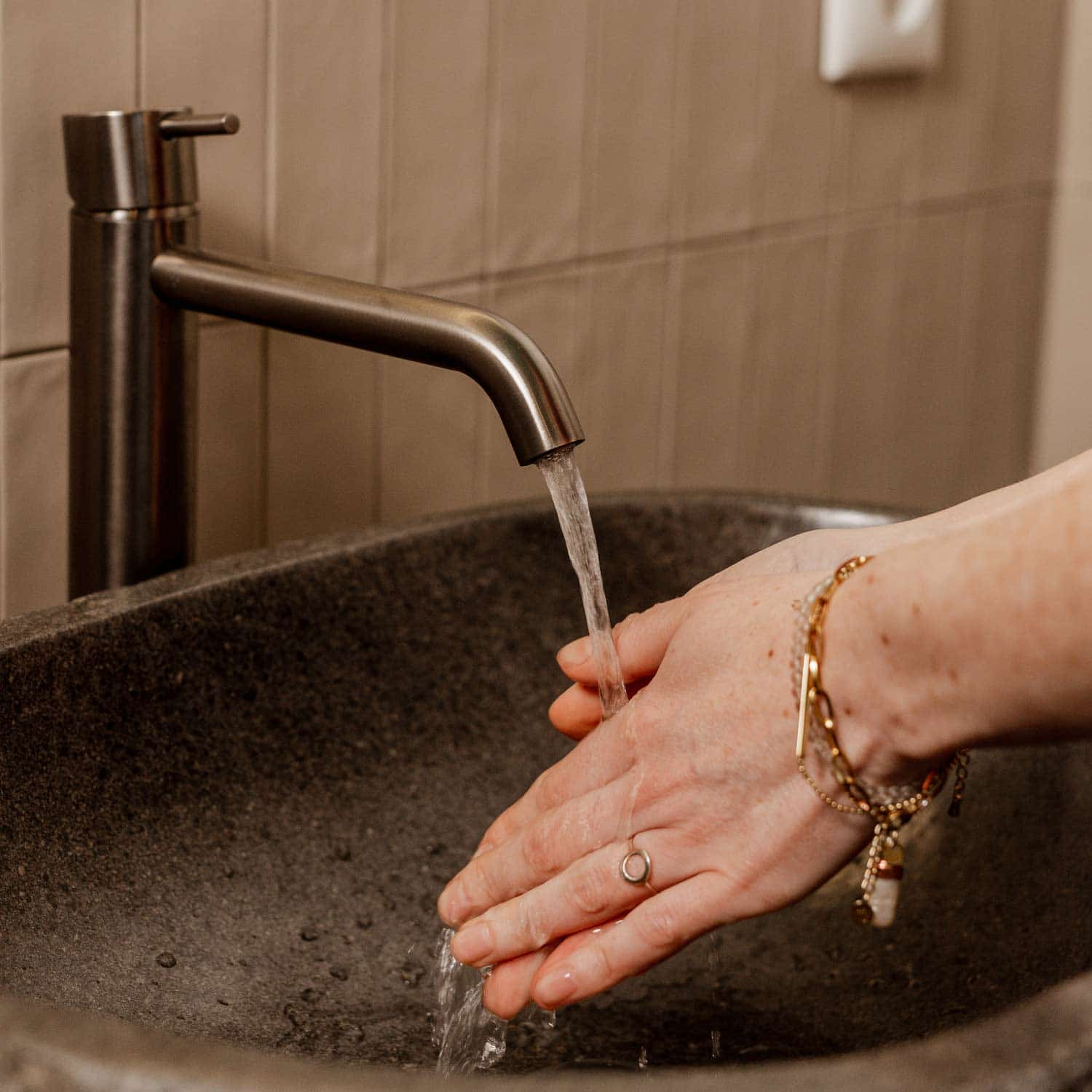 Tips for a Bathroom En Suite by Kayleigh:
If you're looking for a house with a bathtub but the bathroom doesn't have one, you can realize it in another part of the house. We had enough space with 5m².
Gather all materials (tiles, accessories, paint samples, faucets) together like a mood board. Step back and see if they complement each other well, and take a photo so you can review it later.
Have the bathroom drawn in 3D so you can visualize the proportions. Alternatively, mark out the space on the floor with painter's tape and 'place' the fixtures inside."
When we take a bath, we open the door to the outside for adequate ventilation. This also prevents the bedding from becoming damp.
The bedroom is painted with paint suitable for humid spaces.