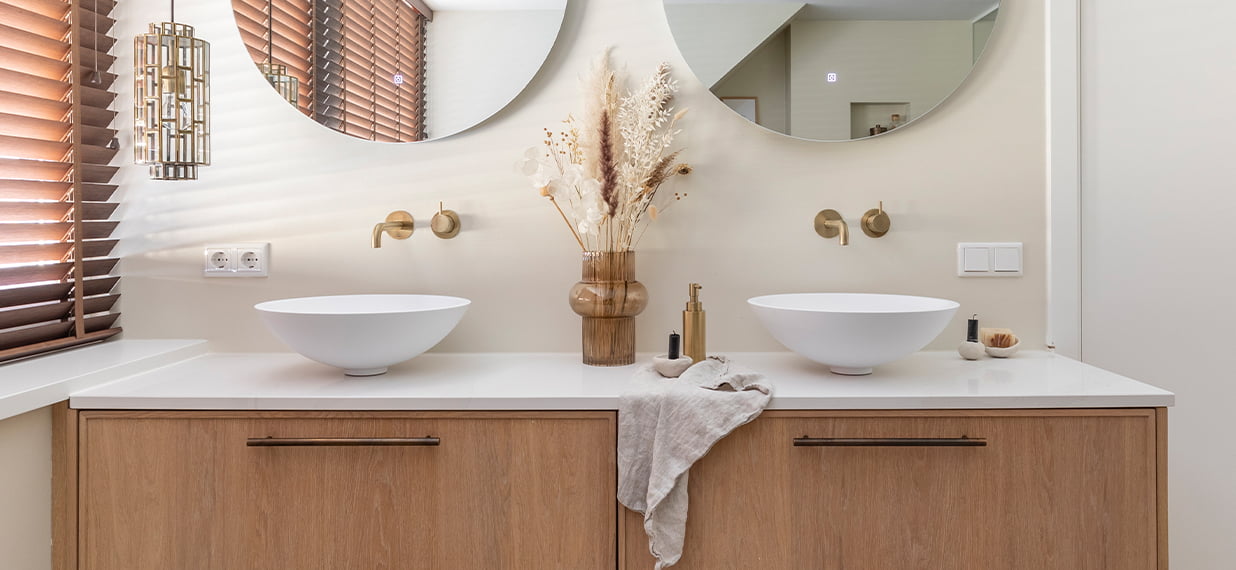 Cobber
Our most colourful series
Anyone looking for a colourful tap should not miss the Cobber series! This comprises the trendiest designer taps where form, innovation and colour are combined. It's the most popular Hotbath series for a good reason.
The Unique Colors of the Cobber Series
Cobber faucets are available in a stunning fifteen finishes. Black faucets are true eye-catchers in a modern bathroom that follows the latest trends. Or opt for something truly special and go for trendy brushed brass. If you prefer a timeless faucet, you can choose chrome or brushed nickel.
In addition, the faucets from the Cobber series are also available in brushed brass, polished brass, aged brass, brushed copper, or polished nickel, our beautiful living colors. These faucets are finished without surface protection, allowing the color to naturally change over time. Through touches and external influences, the faucet develops a unique patina.
The Right Faucet for Your Bathroom
The Laddy, Cobber, and Buddy series are developed according to the same concept. The faucets are all top-quality, durable, and easy to install. They have the same basic design but are each slightly different. Cobber falls right in between Laddy (ø 18 mm) and Buddy (ø 26 mm) with a spout diameter of 20 mm. This means there's something for everyone, and a Hotbath faucet will always fit your home situation.
The Benefits of Cobber
The Cobber series is the most versatile series from Hotbath. Fully customizable to your own style. Whether you're looking for a basin mixer or a fully furnished bathroom, the possibilities with Cobber are endless.
Choice of thirteen colors
Cobber living colors naturally change in color
Three finishes are available with a unique PVD coating.
Can be complemented with bathroom accessories in the same colors as the faucets
10-year warranty on the high-quality internals produced by Flühs
No waste of hot water thanks to the Flower Power System
Can be installed and placed in three ways thanks to the 3+3 system
Ask your sanitary advisor for all the features of Cobber. Our dealers will be happy to assist you.
View all products from the Cobber series!
Want colored faucets in your home? Check out the popular Cobber series! These faucets are available in 13 colors. Choose matte black or brushed brass, for example. Explore the series: